Using the Setup Wizard
Click on the AppLauncher on the top left side in Salesforce.
Select Chargent as the App
Select the Chargent Settings Tab
Choose Chargent Setup Wizard
Follow the prompts to configure your gateway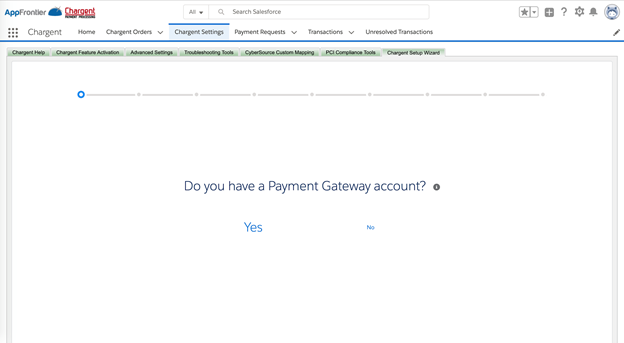 You will need the following information to configure the gateway:
What Gateway you will be using
Test Login / Live Login credentials – (If you are looking to do live tests from your Salesforce Sandbox you will need to also use the Endpoint Override URL)
Will you be using Tokenization (recommended)
What currency will you be using
Will you be using the Payment Console (Platform Edition and above)
What Payment Methods will you be accepting? (Visa, Mastercard). Will you be doing Bank Debit transactions?
Will you be doing subscription billing?
Gateway Wizard Errors
If you receive an error message stating "Credentials you provided are not valid. Please check and try again." this means one of the following things:
Your gateway credentials are invalid or expired, please check them again.
You are using test credentials setting up a live gateway.
You are using live credentials setting up a test gateway.
The Remote Site Settings for your payment gateway are not active. Go to Setup > Remote Site Settings, locate the URL(s) related to your gateway, and make sure the Active checkbox is checked.
Gateway Emulation
If your gateway is not listed it may be supported via the Authorize.net emulator. Please see our list of supported gateways on our Gateways page. If your gateway is supported using the Authorize.net emulator you will want to also make sure the endpoint override is added to the Remote Site settings.
Click the gear icon and choose Setup in Salesforce
In the search window enter Remote Site
Click the New Remote Site button on the top
Enter the following

Remote Site Name (this is generally your gateway name)
Remote Site URL (this is the Endpoint Override you would have used in setting up your gateway).