Install or Update all 3 Chargent Packages #
Chargent includes 3 packages that can be installed into your Production or Sandbox Org, including the Chargent Base, Chargent Transaction, and Chargent Anywhere packages. Fortunately, installation and updates are made easy using the Package Installation Manager (PIM). We always recommend installing or updating in a Sandbox before installing or updating in a Production environment.
You can access the PIM to install or update Chargent on our website's installation & updates page. Click Update Chargent (This will also install Chargent). You will be instructed to log in to your Salesforce Sandbox or Production org and click Allow to grant access and install Chargent.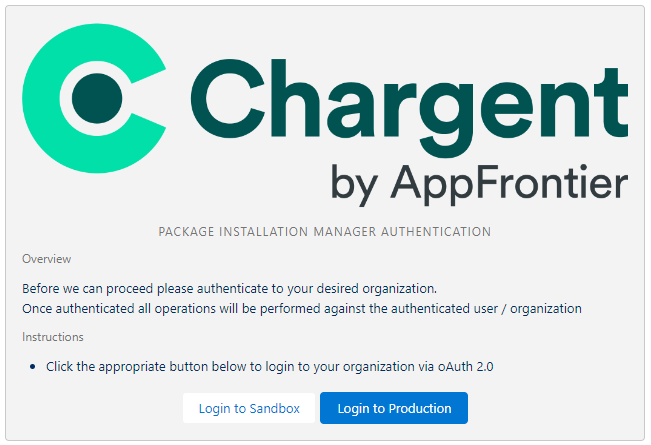 Click Chargent – Payments for Salesforce to automatically install the Chargent Base, Chargent Transactions, and Chargent Anywhere packages.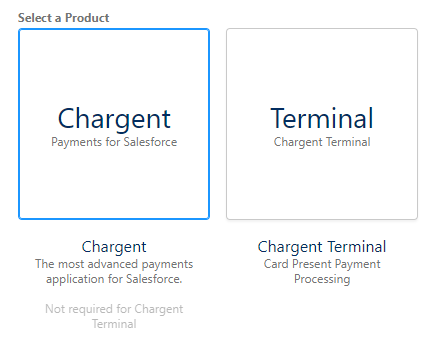 Note: You don't need to install Chargent Terminal unless you have a physical Chargent Terminal POS system. To learn more about Chargent Terminal, visit our Chargent Terminal webpage.
You will see the following screen as the PIM processes the installation of all three packages.

It will take a few minutes to complete the installation or update. We recommend that you refrain from navigating away from the PIM webpage during installation. Some browsers include a memory mode that may interrupt your installation.
Once you have installed and updated all three packages, you will see the Base, Transaction, and Anywhere package options checked with a checkmark, indicating that they have been installed and are up to date.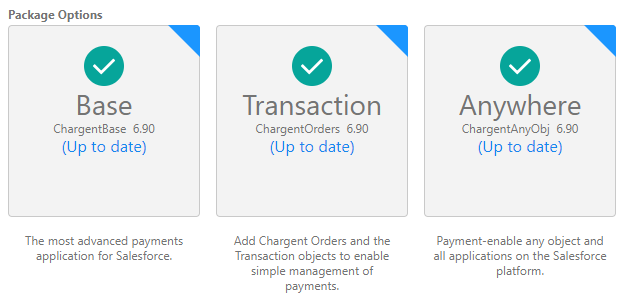 Lastly, we recommend periodically checking for updates to ensure you get the most out of Chargent. To learn more about how we are improving Chargent, check out our latest Release Notes.
Now that you've installed Chargent, you can assign your licenses and permissions.
See Also
Release Notes & Supported Versions
Chargent Installation and Updates