SALESFORCE POS INTEGRATION
.
Process payments through Salesforce with Chargent Terminal
Chargent Terminal offers you the flexibility to provide a great customer experience while keeping all data inside Salesforce. Your customers can pay in-person with their preferred method, from credit card to mobile payments. You get smooth transaction processing on a Salesforce POS system, with all transactions synced to your Salesforce platform.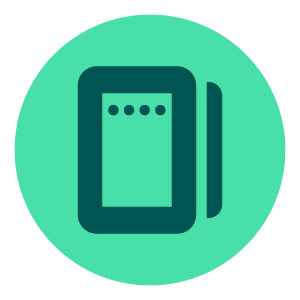 Reduce Payment Processing Fees
Card-not-present transactions can be costly in both fees and time spent re-entering data into Salesforce. Chargent Terminal sends the transaction to your payment processor and records it in Salesforce, saving you time and money.
Take Payments on the Spot
Is your customer ready to pay? Bring the cash register to them! Chargent Terminal is flexible enough to accept payments on the go, a mobile Salesforce POS terminal with either wifi or optional 4G connectivity. Your customer has the assurance that everything is set up correctly, and can walk away with a receipt of their choice: paper, email, or text.
My client was in search of a Credit Card Chip Reader solution as they were migrating off of old card swipers and their current payment product. In doing research, Chargent Terminal seemed to be a great fit. The whole process of implementation from cradle to grave was seamless and simple. Very easy setup and configuration for users of any type. Looking at the use of the product my clients had a comparison of their existing payment solution against Chargent, and hands down they have said that Chargent is far more intuitive and has made their lives in processing payments extremely simpler.
Integrate Automatically Into Financial Systems
Having information automatically in Salesforce is good, but integrating into your CRM, CPQ and ERP is even better! Data silos are eliminated, reducing data entry errors, giving you improved visibility into customer information.
Better PCI Compliance
Remove risky paper forms with customer payment information, or the need to manually type credit card data for processing at a later time. Transactions can be processed in real time and payment plans initiated before your customer leaves.
EMV Certified Solution
Chargent Terminal is the only EMV certified solution on the Salesforce AppExchange. Offer the extra security of chip-enabled credit cards, protecting your customers and their data.
Technical Details
Chargent Terminal offers modern payment methods for your customers' convenience. All transaction data is synced to your Salesforce org with no extra data entry necessary.
Internet access by wifi or optional 4G
Receipt options: paper, text, email
Accepts payment types:

Chip
Magnetic stripe
Tap-to-pay
Apple Pay, Google Pay
Only EMV certified solution on AppExchange
How Tuff Shed Reduces Rates With Chargent Terminal for Salesforce