COLLECT MORE CASH
With Chargent Automated Collections
A powerful, configurable tool to easily automate and improve your payment collections process, so you can collect late payments before they become lost revenue.
AUTOMATE AND IMPROVE
Your Collections Process
Automate early-stage collections activities like dunning emails and payment retries.
Eliminate manual work and let your team focus on strategic tasks.
Build stronger relationships with donors and customers for longer lifetime value.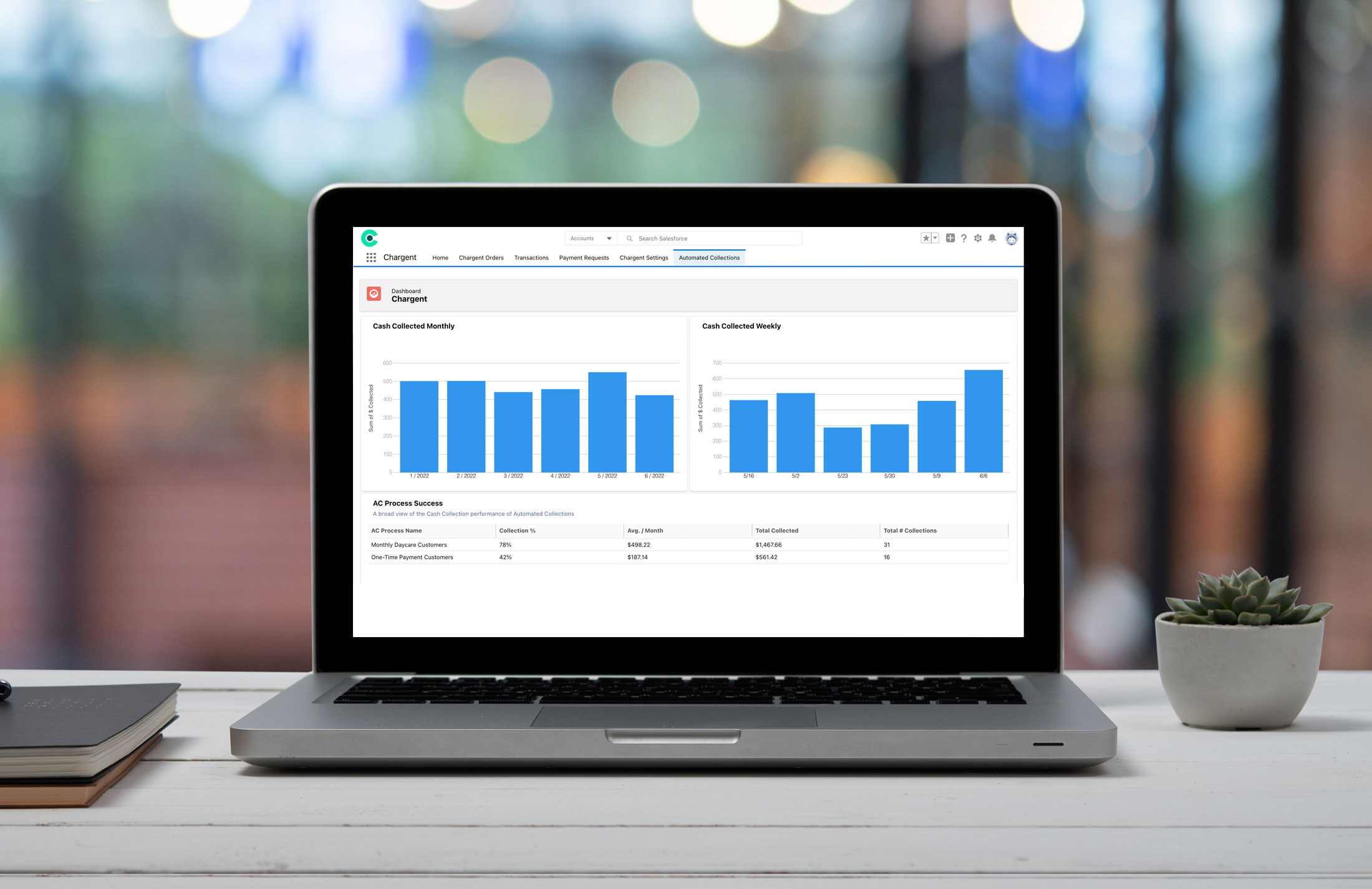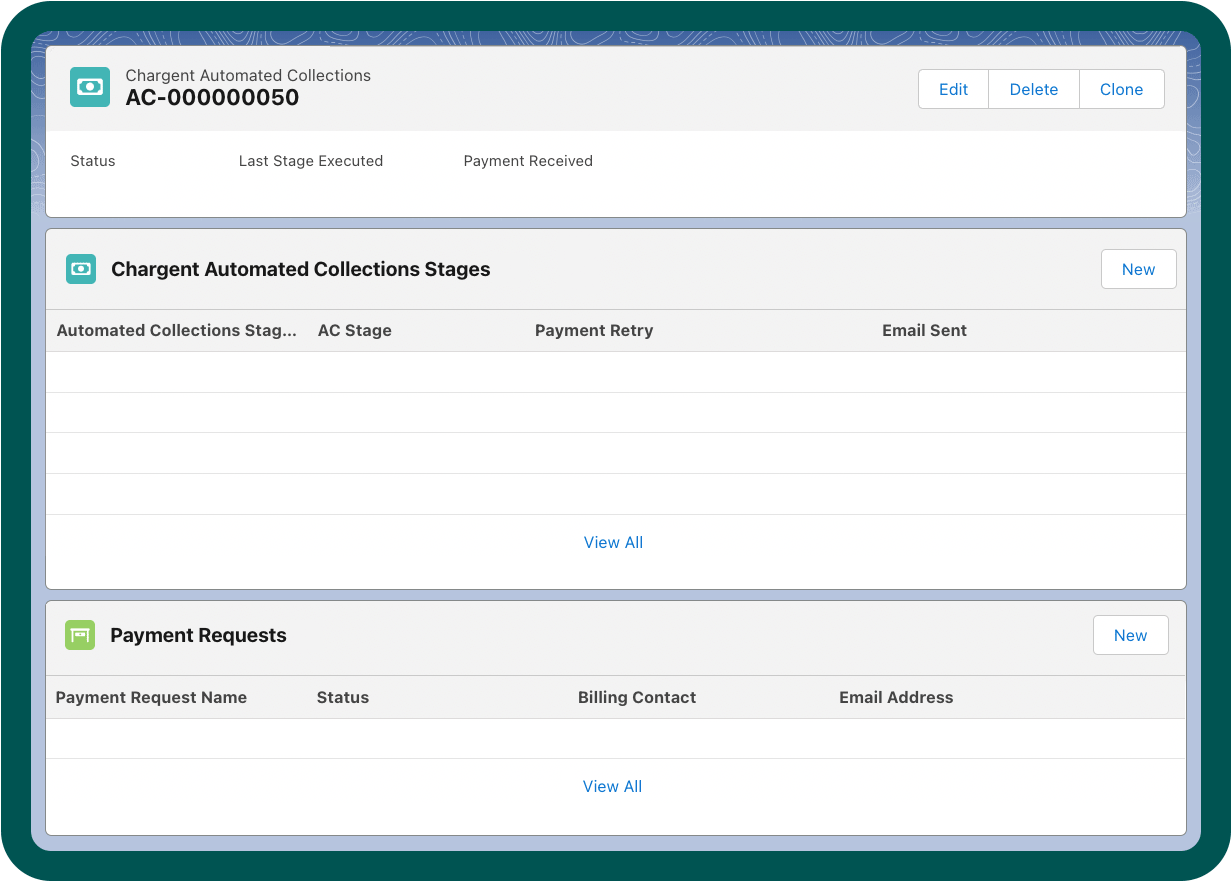 SMART COLLECTIONS
All in Salesforce
Fully automate collections on any payment, from any system or Salesforce object.
Powerful analytics features let you continually improve your collections process.
Easy to configure with clicks, not code.
Automated Dunning
Automate customer communications around late payments, to collect more with less effort.
Integrated Payment Links
Smart emails with clickable payment links offer the convenience customers expect – and get you paid faster.
Smart Payment Retries
Payment retries that get smarter based on results. Continual improvements mean more collections success.
In-Depth Analytics
Ready-to-report analytics let you quickly analyze, then optimize your collections process.
A/B Testing
Test and refine your collections copy to better reach your customers and collect more failed payments.
Retry Timing
Understand the retry timing that works best for your customers to collect more cash, more quickly.
Simplified Implementation
Configured with clicks, not code. Start collecting today, without a major implementation project.
Collect Any Payment, Anywhere
Think beyond failed payments, and tackle overdue invoices, deposits, and more.
Managed Right in Salesforce
Streamline your payments process, and manage collections right in your CRM – where your customer data lives.
Chargent is a game changer. It takes the heavy lift off payment collections, and gives customers peace of mind and ease.
ACTIONABLE ANALYTICS
Powerful data to refine your collections process, at your fingertips
Your Automated Collections Dashboard provides instant snapshots of your collections performance, as well as in-depth analytics insights that let you dive deep into the data.
Measure and manage everything from your email messaging, to payment retry timing, to the color of your payment request button.
Empower your team with meaningful, actionable analytics – so they can spend their time on improving your collections process, instead of manual collections efforts.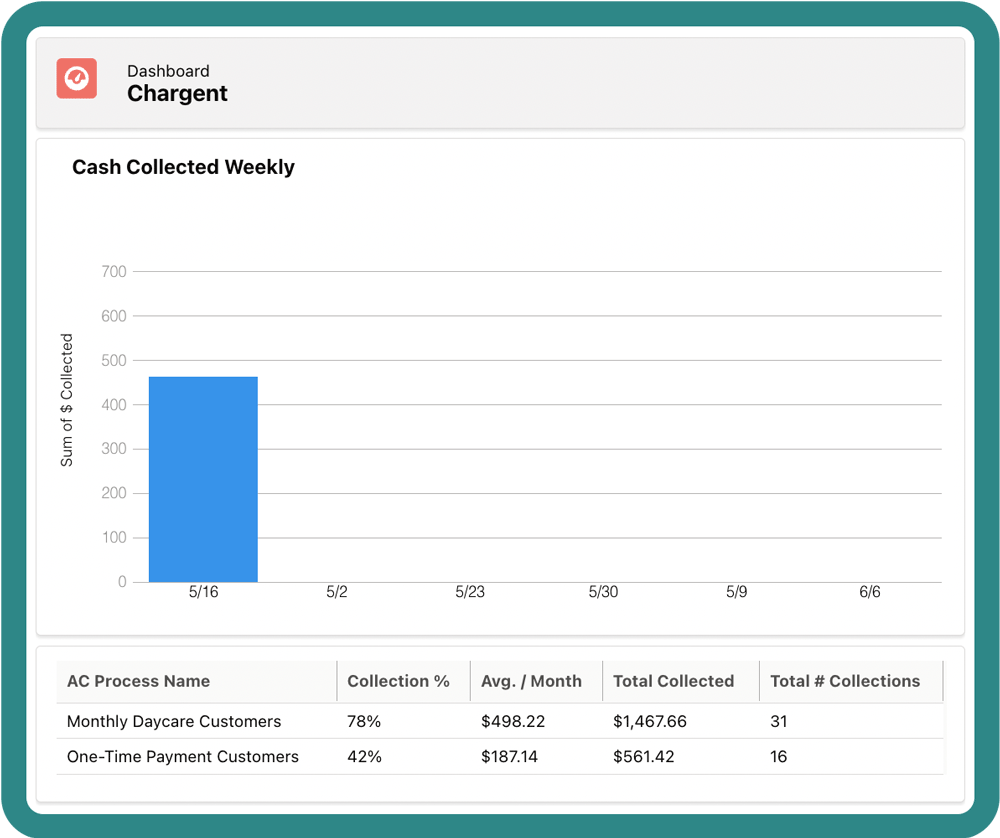 TACKLE FAILED PAYMENTS
Don't risk customers or donors to involuntary churn
Failed payments can add up quickly to high accounts receivable, lost revenue, and customer churn.
Automated Collections does the heavy lifting of capturing payments that fail due to simple errors like expired credit cards or address changes, reducing involuntary churn and making it easy for your customers to continue receiving the services they value.
ROI OF AUTOMATED COLLECTIONS
Understand your full financial picture
Average revenue businesses have held up in AR and payment terms.
Firms reporting operational cost savings with AR technology.
Average annual cost of customer attrition due to failed payments.
Chargent Automated Collections centralizes the entire collections process in Salesforce, to give you a more complete picture of both your customer and your overall financial landscape.
Faster collections lead to better financial metrics, and efficiencies gained by streamlining your collections process in one centralized system. You'll quickly realize improvements like:
Decreased customer churn
Lower DSO
Reduction in bad debt
Healthier Accounts Receivable lifecycle
Automated Technology Drives AR Benefits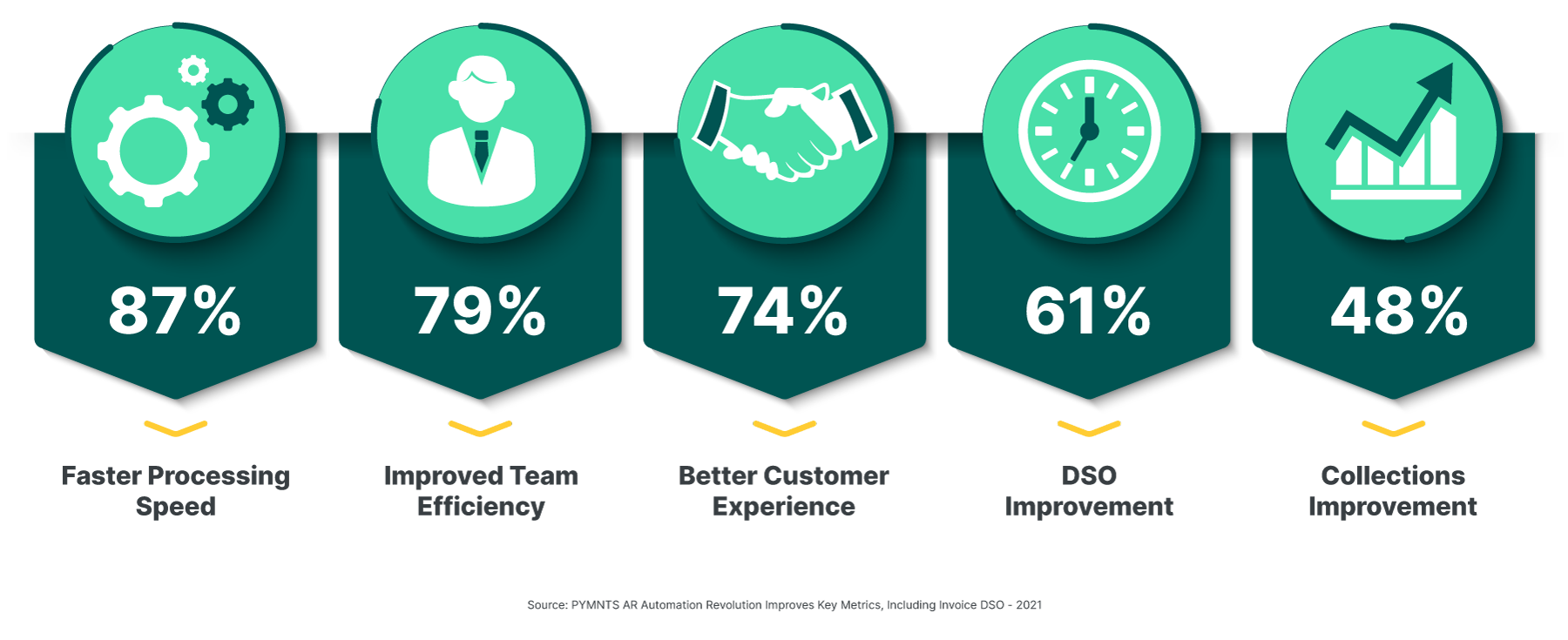 FIRST PARTY COLLECTIONS
Bring collections in-house to keep more of what you collect
Outsourcing your collections process to an outside agency is expensive – but automated payment collection software has leveled the playing field for debt collection.
Automated Collections works seamlessly in the background to collect revenue, making it easy to bring more of your collections process in-house, retain control over your valuable customer relationships, and keep more of what you collect.
FULLY AUTOMATED COLLECTIONS
Right in Salesforce
Collect Any Payment
Make it simple for your customers to pay you for the services that they value, while taking advantage of capabilities like dunning management and data analytics.
Automated Collections gives you the flexibility to tackle payment scenarios like:
Fully automated one-time payments
Scheduled or installment payments
Payments managed in other systems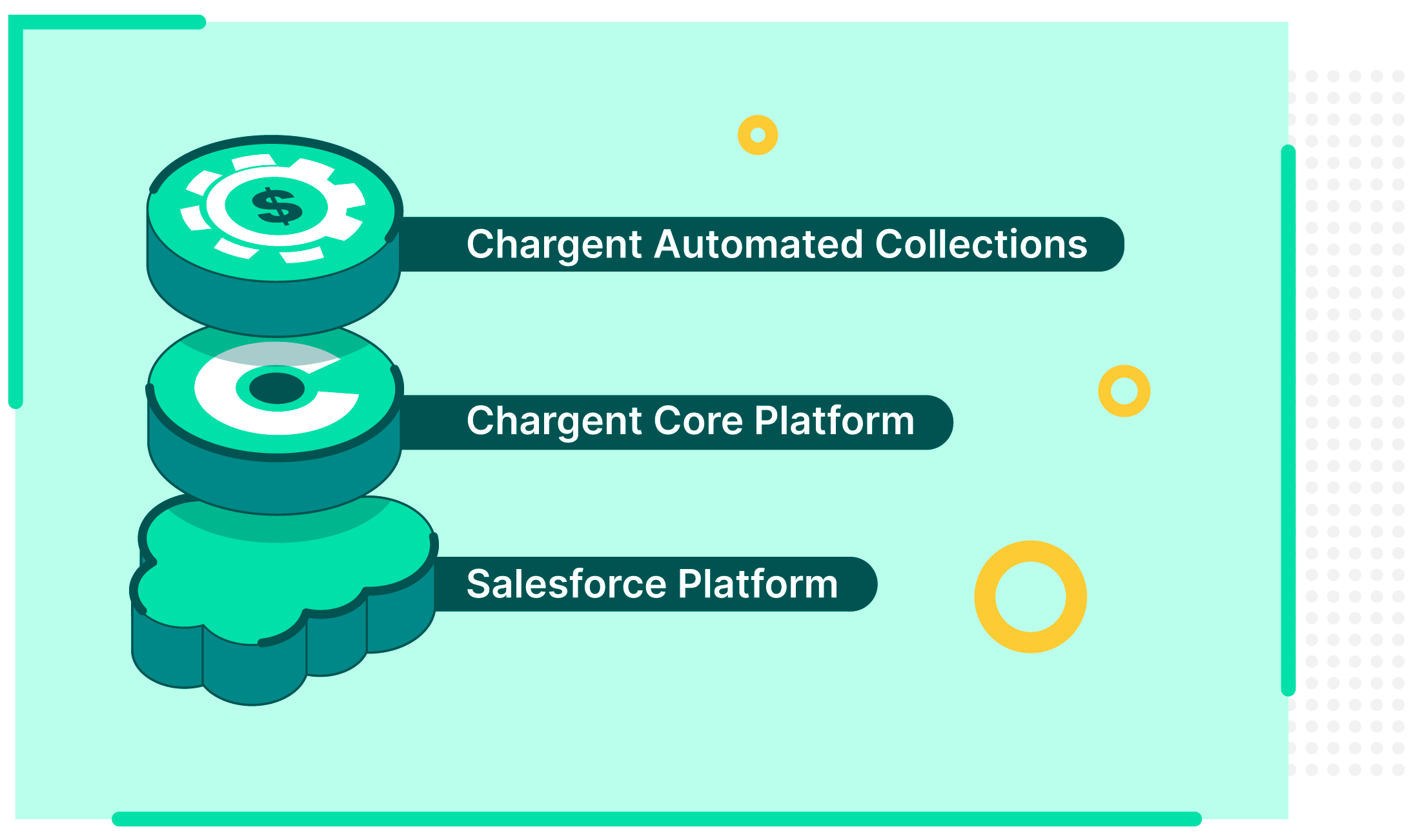 Transform the financial health of your organization with payment processing, automated collections, and customer data in Salesforce.
Know where and how to start when identifying opportunities for bringing automation to your organization.
Make it as simple as possible for customers to pay you for the services they value.