ACCELERATE
The Last Mile of Cash Collections
Easily connect your preferred payment gateway, and add flexible, digital payments to Salesforce CPQ and Salesforce Billing in minutes.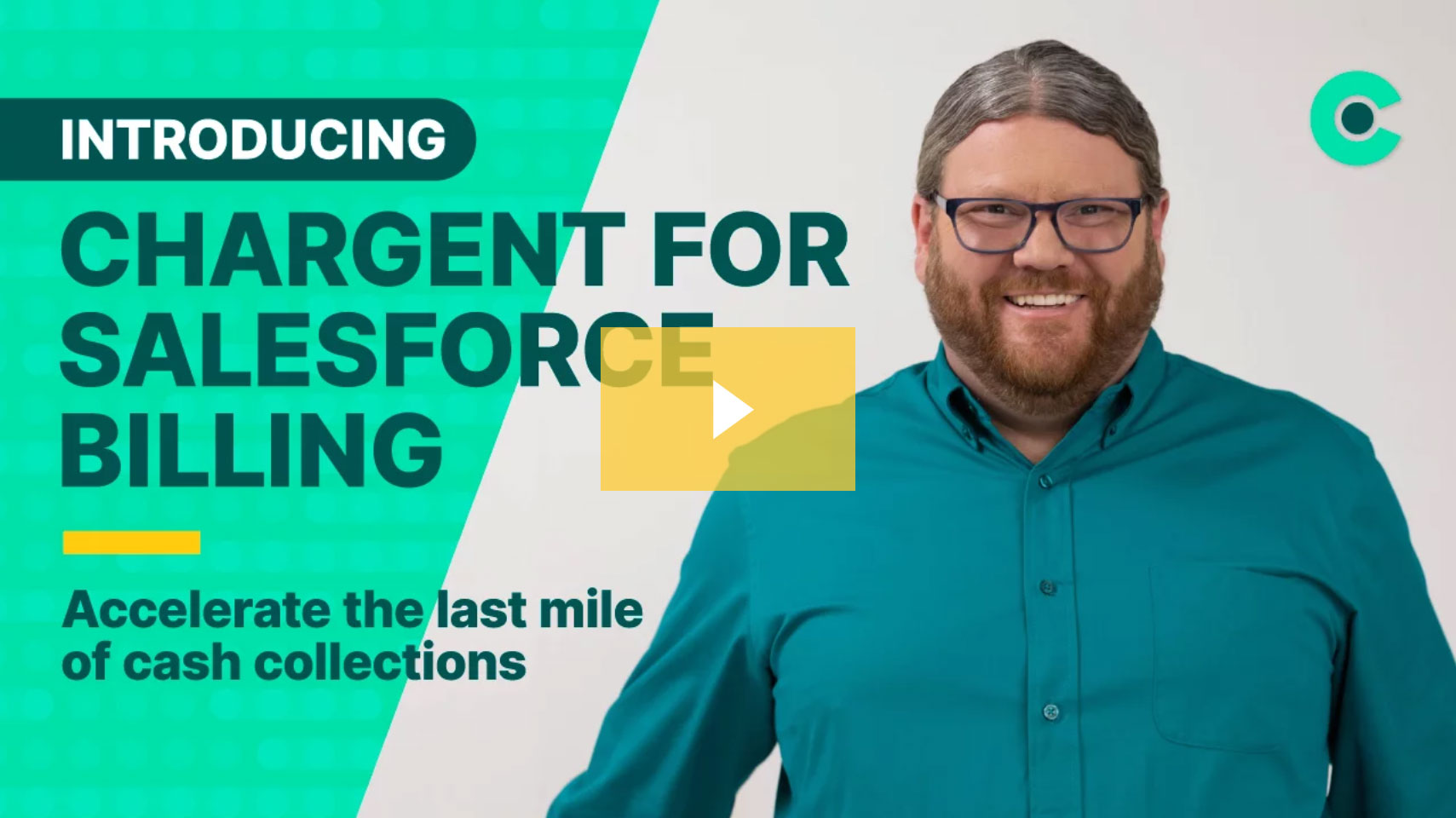 MORE CASH
In Quote-to-Cash
Take digital payments directly from Salesforce Billing invoices
Connect your existing payment provider in minutes
No development required
Simple for your customers and finance team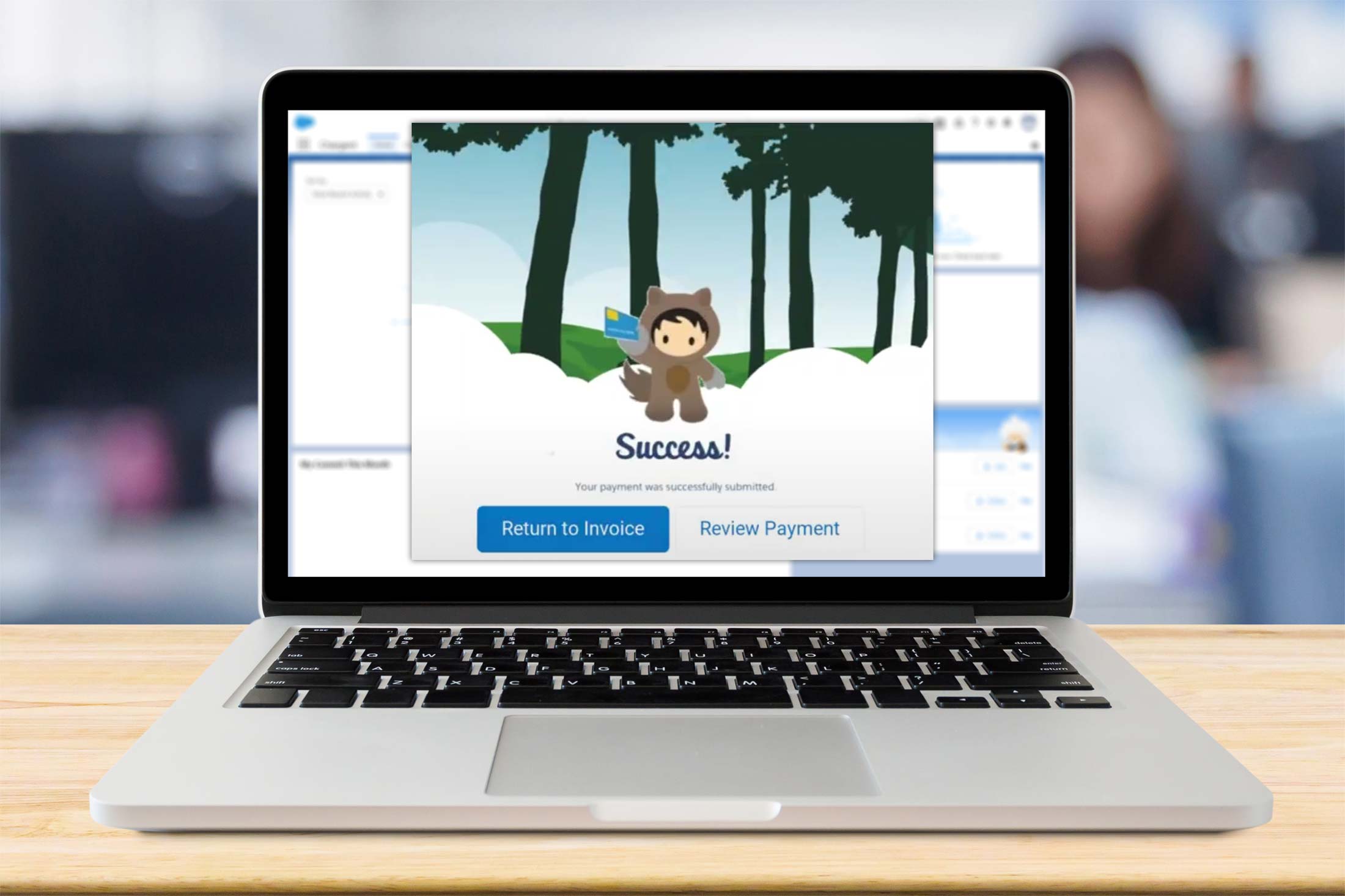 Connect to 30+ Payment Gateways
The power of Salesforce Billing, now with your gateway of choice
Chargent for Salesforce Billing connects your payment gateway to Salesforce Billing with clicks, not code. Simply choose your preferred payment gateway, provide your credentials, and start taking credit card, debit card or ACH payments directly from Salesforce Billing invoices.
Your Salesforce Admin can have you up and running in a matter of minutes – without costly custom development.
And because Chargent maintains these integrations on an ongoing basis, no integration work is ever required.
Our clients want to save time and money on their Salesforce Billing implementations. We refer them to Chargent to help them take digital payments without renegotiating their payment gateway agreements. It just keeps working – once they're connected, they don't have to think about it again.
Empower Your Finance Team
Flexible payments deliver bottom-line results
Finance teams report measurable results
Quicker cash collection
Reduced DSO
Increase visibility
Improved tracking of your payments
BEST OF ALL
Your team can work directly in the Salesforce Billing interfaces they are already using.
No additional training required.
Average revenue businesses have held up in AR and payment terms.
Average cost savings from electronic invoice payment processes.
Percentage of companies marking lack of payment choice causes friction when paying suppliers.
EVERYWHERE
You Want to Be in Salesforce
Unlimited extensibility to tackle complex payments challenges
Take advantage of the full range of features that make Chargent the leader in Salesforce payments. Remove friction between your payments process and sales cycle by payment enabling any object inside Salesforce. You'll get the simplicity of Chargent payments, along with all the sophistication of Salesforce Billing tools.
100% Built on the Salesforce Platform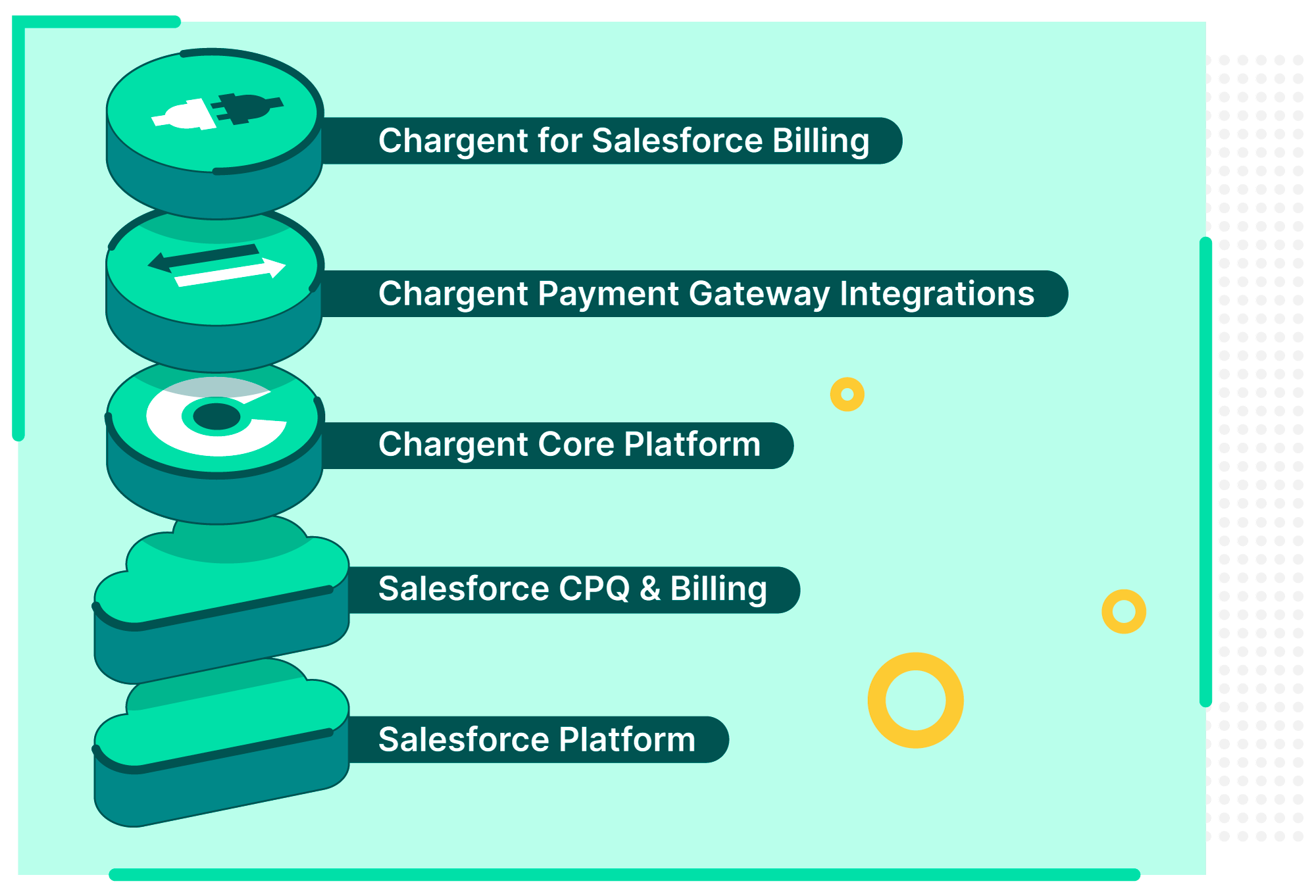 Empower Your Team to Take Payments:
30+ Payment Gateways
Choose your preferred payment gateway and start taking payments in minutes.
Automate Quote-to-Cash
Easily accept digital payments and close the loop on your quote-to-cash process.
No Development Required
Connect with clicks, not code – no custom development or ongoing integration maintenance necessary.
Chargent Advantage
With unlimited extensibility, take advantage of Chargent's powerful payment capabilities.
Simple for finance teams
Work right in the Salesforce Billing pages you know and love – no training needed.
Consumer-friendly Payments
With better digital payment experiences, consumers complete the payment process faster.
If you use Salesforce CPQ and Salesforce Billing, you already understand the value that automation adds to your sales process. However, quote-to-cash is just quote-to-invoice – until you get paid.
As the digital world has become integrated into almost every part of our lives, the variety of payment options have expanded. Salesforce has expanded along with it.
Salesforce is continually expanding its offering, allowing businesses to engage and serve their customers more effectively. Today, many Chargent users are leveraging CPQ and Billing in addition to our software to deliver the most invoicing and payment options.
CHECKLIST: 10 Ways to Put More Cash in Quote-to-Cash
Download our digital payments checklist to learn 10 things you should consider when getting started with Salesforce Billing and Payments.
Learn tips to:
Improve your invoice process
Offer payment methods your customers prefer
Automate payments and revenue recognition
Reduce PCI Scope
And more – in our free guide!