It's no surprise there are a lot of questions about Salesforce Payments. Salesforce is a full-scale CRM platform with thousands of features to help you streamline your organization's operations, and a growing list of add-on products like Salesforce CPQ, Salesforce Billing, and Salesforce Communities — understanding all of this takes time! Here are answers to the top 10 Salesforce Payments questions we receive regularly here at Chargent.
#1: What is Salesforce CPQ Billing?
Salesforce CPQ and Billing are two products that make it easier for salespeople to send proposals, and for operations to invoice and bill their customers.
CPQ is an acronym for Configure, Price, Quote
Through CPQ, businesses can create quotes and orders… more quickly and more accurately.
With this product, you can generate new quotes taking into consideration your business's customized rules, for things such as pricing, discounts, add-on services, bundled products and other challenging tasks related to getting customers the pricing configurations they need. By automating the quoting, orders and pricing processes, businesses can save time while reducing human error.
Salesforce Billing serves a different purpose
Salesforce Billing is an add-on package to Salesforce CPQ, that enables the seamless flow of essential data from CPQ records to automate invoices, payments, and revenue recognition.
#2. Can You Invoice Through Salesforce?
Yes! Businesses can create and send both manual and automated invoices directly through Salesforce Billing. This solution allows you to send one-time invoices or use an invoice scheduler to create future invoices. Salesforce's invoices display a list of the products and services ordered, along with a total order amount. Furthermore, Salesforce allows you to customize numerous fields to serve your customers better.
Outside of the Salesforce Billing add-on, there are a variety of ways to send invoices and invoice-like requests for payment within Salesforce. From document integration using apps like Conga and Drawloop, to email templates and Chargent's Payment Request feature, to integrations between Quickbooks and Salesforce provided by Breadwiner and a number of other vendors, there are multiple options for invoicing from Salesforce.
#3. Can Salesforce Process Payments?
Yes. Salesforce Billing supports several payment gateways to process credit card and ACH transactions. Payment gateways are external service providers that can process electronic payments. Salesforce Billing uses ecommerce API integrations to interface with these payment gateways.
The platform also works with several payment apps – the most popular of these is our application Chargent. Chargent not only provides a connector for Salesforce Billing to 30+ payment gateways, it also enables you to process payments directly from anywhere inside Salesforce at the click of a button, send payment links to customers for them to make payments online, and manage recurring payments inside Salesforce.
#4. Can Nonprofits Use Salesforce to Collect Donations?
Yes! Thousands of nonprofit organizations use Salesforce to collect donations and organize their members or donors. Salesforce also provides these organizations with the ability to manage events, fundraising campaigns, and marketing initiatives; and to showcase their results in detailed reports and dashboards.
Chargent enriches the Salesforce experience for nonprofit organizations. In addition to Salesforce's features, Chargent enables organizations to set up recurring donations and automatically send a notification to their donors when they miss an expected contribution.
#5. What's the Difference Between Salesforce Billing vs. Salesforce Billing Department?
Well, this is a common mix-up. If you search for Salesforce Billing on the web, you may not get the results you were expecting. That's because there's a big difference between Salesforce Billing and the Salesforce Billing Department.
Some terminology is key here: The Salesforce Billing Department is the department you would contact to ask questions about your bill, make a payment towards your account, or discontinue services.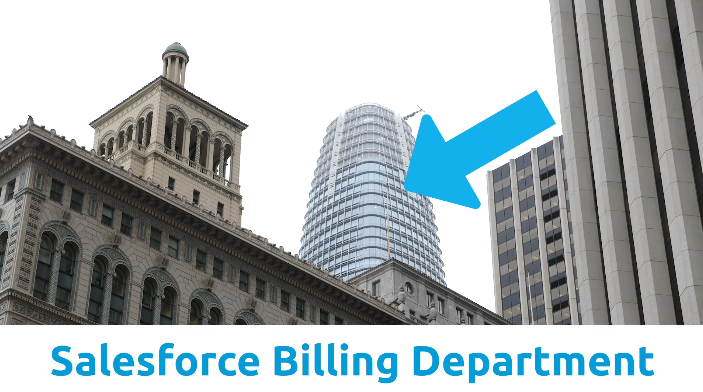 Salesforce Billing actually is the Salesforce product that automates invoices and serves many other functions to give you more control over how you bill your customers.
In other words, if you want to make a payment to Salesforce the company, look for the "Salesforce Billing Department." Generally, this information would be on any invoice you have received from Salesforce itself.
If you're seeking to collect payments from your own customers, look for "Salesforce CPQ Billing."
#6. Can Salesforce Process Subscription and Recurring Payments?
No, Salesforce's out-of-the-box solution does not allow businesses to collect and process repeat payments. However, the Salesforce Billing application does include a subscription invoice product that sends invoices on a repeat schedule.
However adding Chargent will enable you to add recurring billing to your process. Chargent can automatically process scheduled payments and charge your client's on-file payment method at a specified recurring frequency. Additionally, Chargent's Automated Collections feature can automatically retry charges and send emails to your customers if their payment fails or is rejected.
#7. Does Salesforce integrate with PayPal?
Yes, but only through an API or third-party integration. Chargent's Gateway Connector, for instance, allows you to integrate Salesforce with over 30 integrations, including PayPal's PayFlow Pro credit card gateway, Braintree (also from PayPal), Authorize.Net, Stripe, CyberSource, and more.
The primary PayPal service is an online financial service that lets you pay for items through your bank or credit card, using a secure user interface. Payment app integrations like Chargent connect to the PayPal Payflow Pro and Braintree services, which are payment gateway services provided by PayPal. So in short the service PayPal express can be fairly challenging to set up in Salesforce.
#8. How Would You Implement a Payment Gateway in Salesforce Billing?
To accept payments, you need to install that gateway's Salesforce Billing integration package into your org. Chargent makes this even easier by providing a connector to many popular payment gateways which you can install to your org in a matter of minutes.
In most cases, installing a payment gateway requires the assistance of a Salesforce developer. Chargent, however, makes the process simple and straightforward, so that even inexperienced administrators can connect to their preferred gateway quickly.
#9. Does Salesforce Retry Failed Credit Card Payments?
No. As an out-of-the-box solution, Salesforce cannot retry failed credit card payments. To achieve this, you will need to use a third-party application.
If you do use Chargent, we offer an Automated Collections add-on module, which will enable you to retry failed credit card payments on a defined schedule. In addition, it notifies your customer of the failure – giving them the opportunity to update their payment information and resolve their payment status.
#10. How Do You Change Payment Methods in Salesforce?
Through Chargent, you can accept a variety of payment methods from your customers including credit card, debit card, bank transfers and others. Your organization can choose the types of payments they want to accept. Then your customers can select the payment method of their choice.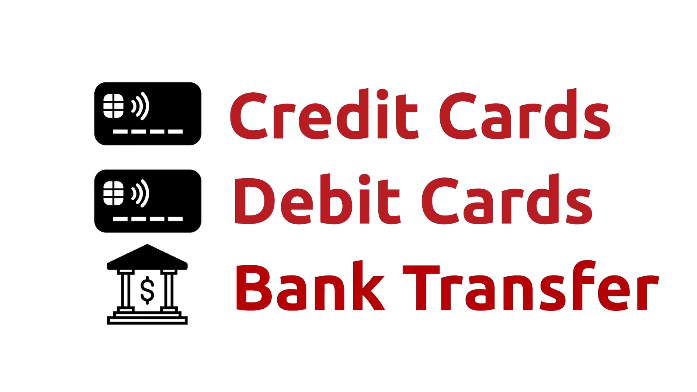 Chargent makes this process even easier. By sending out a Payment Request, customers receive an email that directs them to a secure link where they can make a payment, change their preferred payment method, or add new billing details.If you are looking to update the Payment Method that you use to pay your invoices FROM Salesforce, you should contact the Salesforce Billing Department (see #5 above) via the information on your Salesforce invoice.
Enhance Your Salesforce Workflow with Chargent!
We're proud to say Chargent is the top rated Salesforce payment solution in the AppExchange! In addition to enabling you to connect to your merchant account through dozens of payment gateways, it also gives you the flexible features you need to collect recurring payments effortlessly and automate your payment processes.
Chargent makes any payment process easier with direct payment gateways, flexible payment features, recurring payments and automated collections. See what Chargent can you for by learning about our free 30-day trial!