There are numerous ways to collect payment, but not every payment system is made equal. Providing contactless payment options in a retail environment, for instance, has many more advantages than only accepting legacy mag-stripe cards. Depending on which payment options you offer with your business, you could possibly be putting your customers and their information at risk.
In card-not-present situations, there is no better way to collect payments than through a Payment Request. It's safe, quick, and convenient for both your employees and customers. In this post, we'll teach you everything you need to know about Payment Requests and show you how to send one to your customers using Chargent.
Watch a Demo
What is a Payment Request
Payment Request is one of the tools that is included with the Chargent Payment Processing for Salesforce application. Through this feature, Salesforce users can deliver a request directly to their customers through the form of a link. This link can be contained in Salesforce email templates, email, text messages, messengers, or any other media that has clickable links.
When customers click this link, they are directed to a hosted payment page, where their contact information and the amount is already populated. This form is hosted on your Salesforce site, can be easily branded with your logo and contact information, and provides a secure credit card or bank account field where customers can enter their payment details.
Best of all, once completed, the transaction is recorded in Salesforce and the correct records are updated.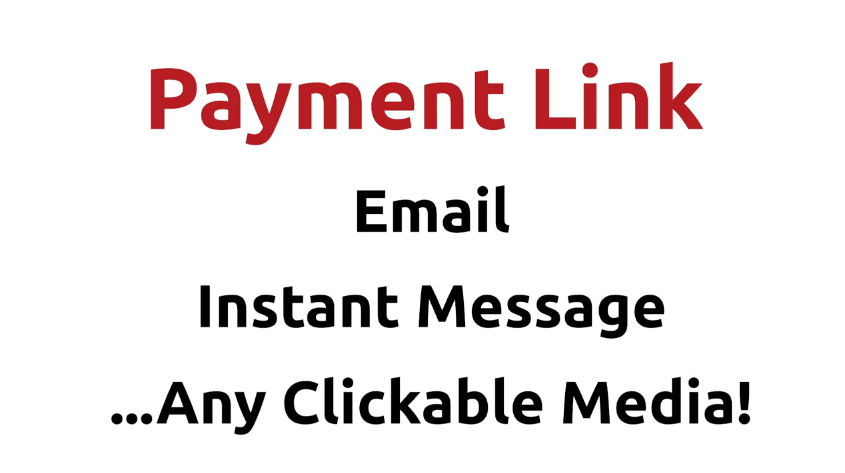 Why Use Payment Request as a Salesforce Payment Option?
Payment security can be tricky and businesses must consider many factors when deciding how they will collect payments – especially in a card-not-present situation. In these cases, the threat of payment information being intercepted by a hacker or another party is vastly increased.
Phone Transactions vs. Payment Request
Some businesses still collect payments verbally over the phone, requiring customers to share their card details aloud with a sales representative on the other end of the line. This is one of the riskiest ways to collect payment, since it leaves your customers vulnerable to both company and non-company threats. First, there's the threat of a rogue employee using the information to make unauthorized purchases – but even if all your employees are honest and integrable, the mere accusation of data theft from a customer could cause your business to take a loss in brand trust.
Employees aren't the only threat. Sophisticated hackers can tap into phone calls, quickly compromising the customer's card. But it doesn't even have to be this complex – a third party standing within earshot of the customer as they verbalize their information through the phone can present just as much danger.
Sending a Payment Request removes these threats. Instead of collecting information over the phone, the business simply sends a request to the customer, allowing them to make payment on their own. This way, the employee never has access to the card information, and it isn't verbalized in a way that makes it easy for hackers to intercept.
For call centers, pledge drives, and other phone based payments, Chargent does provide a tool to securely tokenize payments over the phone using a popup window in Salesforce called our Payment Console feature. You can even schedule or set up recurring payments that way. But more customers find the self-service nature of Payment Requests to be an easier way of capturing customer payment data — customers can do it at their convenience, and it does not need to be done in real time when your offices are open.
Mail-in Orders vs. Payment Request
Mail-in payments are collected by many organizations, including but not limited to mail-order catalog businesses, non-profits, and utility companies. Typically, these payments require the customer to enter their credit card information onto a paper form, or submit a check through the mail.
Unintended parties can interrupt physical mail at any point during the delivery process. From the mail delivery person to the employees in your mail room, a mailed payment may pass through dozens of hands by the time it reaches its final destination. And at every point in the journey, the customer's payment information is put at risk.
Payment Requests eliminate the security risk present in mail-in payments, and it also makes payment more convenient for all parties. Customers can accept the request and submit funds within minutes, without worrying about it being lost or delayed by mail services. Furthermore, you can collect the payment quicker and receive funds immediately.
Is Your Payment Option PCI Compliant?
The Payment Card Industry (PCI) has developed several payment-handling guidelines that businesses must achieve to manage the security of credit cards. Achieving PCI compliance can seem challenging, as there are 12 key requirements, 78 base requirements, and over 400 test procedures.
There is one way to quickly move closer to achieving compliance, however – minimize your risks by ensuring that you and your employees never touch a card, or see or hear a card number. This means not hearing a card over the phone, not seeing the card number on a form, and giving customers the ability to service themselves in card-present situations.
In card-not-present situations, sending a Payment Request is the best method of collecting payment. Instead of taking the payment over the phone or through the mail, a representative can simply send a Payment Request and allow the customer to complete it on their own and at their own convenience.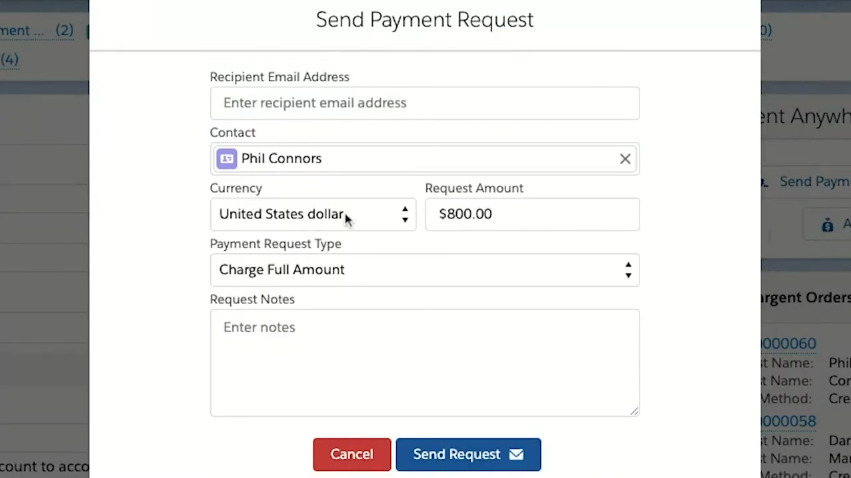 How To Send A Payment Request with Chargent
Sending a Payment Request through Chargent is simple. Right from Chargent Anywhere, which you can configure on any object you work from, click the [Send Payment Request] button. Next, begin typing into the Billing Contact field, then choose the appropriate contact and click the [Send Request] button.
That's all there is to it! In just a few clicks, you've just sent your customer the payment link, and they can submit the payment themselves. The system will tokenize the card or bank account they used, storing it in your Salesforce Org and making it available for use in future payments. This process is convenient, quick, and reduces effort for both your employees and customers.
Send Your First Payment Request Today
Whether you're collecting money over the phone or through your Salesforce website, Chargent gives you full control over your payments. Through Chargent, you can send a Payment Request within a matter of seconds – it's quick and easy, and keeps your customers' payment data safe and secure.
Want to learn more about Payment Request? Contact us to speak with one of our payment experts or download our free 30-day trial to see whether Chargent is the right solution for your payment challenges.