Learn how to take recurring payments in a Salesforce partner community without the use of any code. No Apex, No Visualforce, no code!
We want to thank Lu B for asking how to take recurring payments in a Salesforce community. We made this video answer that question! We love answering your questions, you might even get your own blog post like this one.
Before we begin, what is a Salesforce Partner Community? Communities create an online portal for business partners, employees, and customers to collaborate and connect. Business partners can share information, CRM data, analytics, and anything else necessary to better serve their customers and the bottom line. Customers can receive support and manage their account in a branded environment.
Chargent enhances these interactions by adding billing and payment options to Salesforce Communities. This allows your Community to provide customers with a place to make payments or set up recurring billing, creating trust with your customers and saving your company time and expense.
Partner Community Use Cases
When might you want to take recurring payments in a partner community? These are four use cases we often see here at Chargent.
Use Case 1: Selling insurance on the sales floor
If you are in the operations department of a sales floor, like cars, RVs, boats, or motorsports dealerships. Here you are likely selling warranties, insurance and other products or services. In some cases the money should be collected by the company originating these services. In this case, you as the sales rep would input the payment details on behalf of the customer. This money would be collected by the provider of that service.
Use Case 2: Distributors who sell to retailers
Distributors that sell big engines, transmissions and other large parts for vehicles often need to enable their retailers to order parts easily. This use case can apply to many business to business models. The end retailer goes into the partner portal, adds the pieces they need to buy and checks out. This can be done as a custom build or with the Salesforce B2B Commerce Cloud.
Use Case 3: Dealers ordering collateral
Often as a manufacturer you have a network of dealers. Those dealers need to order pamphlets, banners, and other collateral from you. Partner Portal is a great solution for this.
Use Case 4: Selling on behalf of the provider
Finally the strongest value proposition for partner community payments is when a third party is selling on behalf of the provider of the goods and services. Let's say you are a dog trainer, who sells pet daycare services on behalf of Doggo Daycare. When the fur balls in your care are ready to go to daycare, you can sign them up in real time with your partner Doggo Daycare in their partner community.
Recurring Payment Setup in Chargent
We are going to set up a Recurring Payment. To begin, click the Payment console button in the Chargent Anywhere component to set up payment information.
Inside the Payment Console, put in the owner's name.
Set the cost for this service at $90 per week. Also, set up the Recurring Amount. Click "next" and charge weekly. Go ahead and take today's payment right now by setting the credit card payment start date for next week, when Chargent will start taking payment automatically.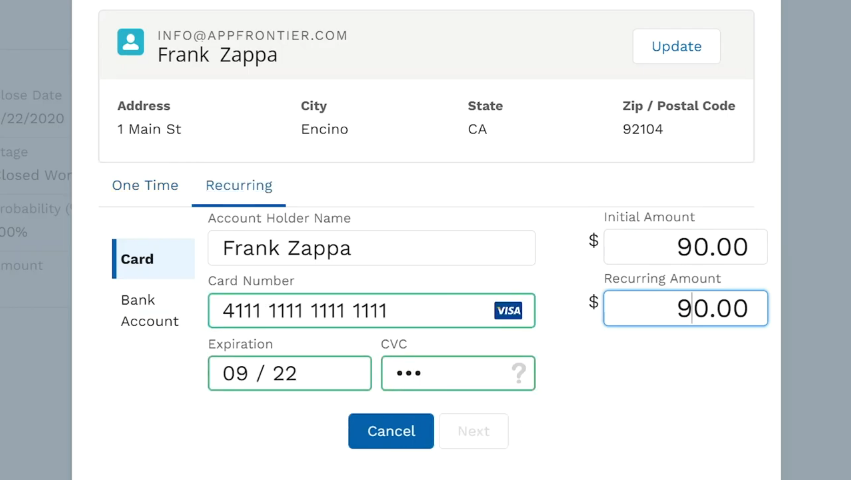 Double check the details to see if it is scheduled to take payment once a week, and you're good to go.
Here at the top, check your billing details. You can see a Recurring Amount of $90, a frequency of weekly, and the automatic payments start next week. In this case, it's a subscription, so set "unending". You can see your next six payments right here. Everything looks good one week after the other. To commit this, click the blue button that says "Charge One Time Payment of $90 and update Recurring Billing."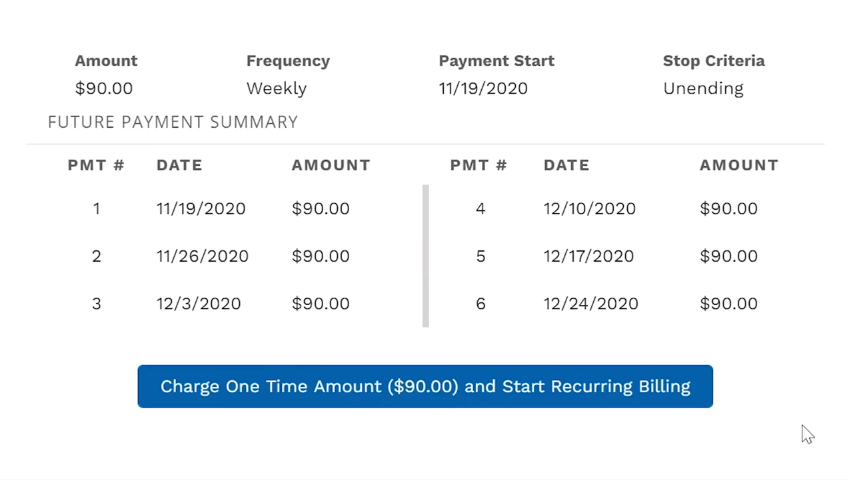 Here, you see the Recurring Result has been created and an approved transaction. You are good to go. Chargent is set to automatically bill this customer once a week.
There you have it. How to take Recurring Payments in Partner Communities without using any code! If you are looking to expand payment options for your customers within a Salesforce Partner Community, Chargent is the highest rated payment solution in the AppExchange, and we're here to support you!
Chargent — Simplifying Online Billing
At Chargent, we're committed to providing our customers with excellent customer service. Hundreds of customers from NPOs to Fortune 50, and millions of end-users use Chargent to process recurring payments in Salesforce, and they frequently tell us how the solution allows them to save time and money.
If you would like to see what we can do for you, download the Chargent 30-day free trial and discover how we can streamline your Salesforce payment process!