Before you start reading this, I have an assignment for you: open up a new tab, navigate to your own website, and read your organization's mission statement. It probably includes lofty descriptors like "transformational" and "industry-leading". No snark here, those superlatives are great aspirations.
But before you can transform anything, you need to tackle something much more fundamental – close more sales and grow your business. And to do that you've got to answer one basic question. What do your customers want?
Smart, Digital Experiences
Salesforce knows a thing or two about customers, and here's what they have to say:
In an era where people are more connected through smartphones, smart devices, and AI serving up personalized data, 83 percent of B2B buyers expect the companies they do business with to understand them and their needs. In other words, the market is demanding more personal engagements.
Every customer touchpoint is an opportunity to make those connections, foster loyalty, and demonstrate that you understand what your customers want and need. According to McKinsey & Co., focusing on the customer experience, at every stage of the customer lifecycle, can drive revenue by as much as 10%. (McKinsey & Company, 2016)
This imperative is only growing. Nearly three-quarters of B2B decision-makers are under 40. To sell to these digital natives, you have to deliver the seamless experience they expect across all their digital interactions. That starts at your initial engagement and doesn't end until they've paid their invoice – digitally.
And actually, the same rules apply to your own internal teams. Your Sales, Sales Operations, and Finance teams want the best tools available to accomplish their job, so they can better serve your customers and recognize revenue faster. If the best you can offer them is a spreadsheet and manual data entry, they are not going to stick along for long.
Here, we'll explore how you can bring that frictionless experience to your Quote-to-Cash process, and ultimately, collect more revenue while better serving your customers.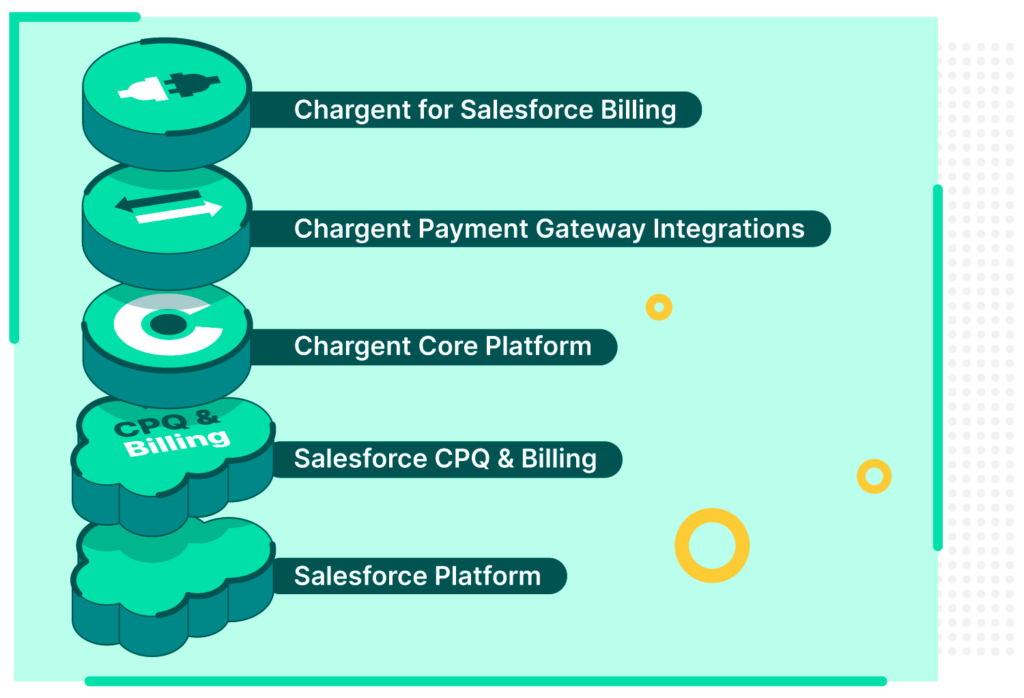 Salesforce CPQ and Salesforce Billing
If you're reading this, I'm willing to bet that you're already using Salesforce, and that you understand the value of a 360-degree view of your customer. Maybe the prospect of "more cash in Quote-to-Cash" caught your attention, or perhaps you're already considering adding Salesforce CPQ and Salesforce Billing to your Salesforce platform.
Salesforce CPQ and Salesforce Billing can add significant cost to your Salesforce investment, and an implementation project is no small undertaking. Beyond delivering ROI, which is much easier to measure, how do you know if it will be worth the effort?
Your customers expect meaningful answers to questions like:
What products are right for me?
How much do they cost, and can you price them to fit my business model?
When it comes time to pay for your services, what are my payment options?
Oh, and by the way – the only correct answer to #3 is, however your customer prefers.
The simplest way to achieve these objectives is with a robust Configure Price Quote (CPQ) and Billing solution. Salesforce CPQ and Salesforce Billing offer powerful features like guided selling, the product configurator, pricing and quote proposal management, orders and renewals, contract management, and invoicing.
Salesforce CPQ makes it easy for your sales team to provide quotes to customers quickly, with guardrails in place to automatically consider the pricing impact of optional features, discounts, multiple quantities, and more. Once a quote is finalized and ordered, it moves seamlessly to Salesforce Billing, an add-on product that automates the invoicing, payment, and revenue recognition stages. In short, Salesforce Billing tells you what needs to get paid and when.
One of the things Salesforce is really good at is breaking down silos across your organization. By automating the entire Quote-to-Cash process, you set your teams up for success by bridging the gap between your Sales, Sales Operations, and Finance teams. These powerful automation tools remove room for error, and most critically, empower your team to deliver on the promises they've made to your customers.
With the right processes in place, powered by automation, your sales teams can elevate their customer relationships, and go beyond transactions to become trusted advisors. Rather than spending their time manually shepherding the CPQ lifecycle, they can spend their time engaging customers and helping them identify meaningful solutions to their most pressing problems. Think conversations, not calculators.
Automating Quote to Cash
Automating the entire Quote-to-Cash process can dramatically impact your organization's bottom line, improve your customer relationships, and help your internal teams work together more efficiently.
However, no matter how powerful your CPQ and Billing tools, Quote-to-Cash is really just Quote-to-Invoice – until you get paid.
If you're investing in automation, you need to go all-in – and that means automating digital payments.
That's where Chargent comes in.
Digital Payments for True Automation
So how do you automate the complete Quote-to-Cash process and start taking digital payments?
You have three primary options.
Out-of-the-Box Payment Gateway Integrations
One option is to take advantage of a limited number of out-of-the-box payment gateway integrations included with Salesforce Billing. If you are already using one of those payment gateways, this may address all of your needs.
Otherwise, if you want to use one of these built-in integrations, you are looking at changing payment gateways – a time-consuming, cumbersome process. Making a switch can mean renegotiating rates and letting go of longstanding relationships with your preferred payment gateway. Additionally, navigating the underwriting process can add significantly to your project timeline.
A good project manager will tell you that your process should dictate the system, not the other way around. It often makes more sense to fit the technology to the process that works for your organization, rather than altering your finance fundamentals.
Custom Development
Your second option is building a custom integration with your current payment gateway. While it offers the advantage of retaining your preferred payment gateway, this option is costly in both time and money.
The upfront costs of developing a custom solution are high. Even if your in-house team has the necessary skill set, it is still a major investment of time. And if they don't, you will be paying for your Salesforce Billing implementation partner to learn the technical aspects of your payment gateway API.
Custom development also means ongoing maintenance. Any changes to Salesforce Billing or your payment gateway API will need to be addressed immediately – or you run the risk of interrupting your ability to accept customer payments.
Connect your Payment Gateway with Chargent for Salesforce Billing
Chargent for Salesforce Billing helps you collect cash faster by taking payment gateway integrations out of scope.
Chargent supports more than 30 click-to-configure payment gateway integrations. You'll be able to quickly connect your billing system to your preferred payment gateway, and start taking digital payments, without integration work or revisiting your financial processes.
Salesforce payments are our sole focus, and we maintain these integrations on an ongoing basis, so no development work is ever required.
Often, for organizations planning a Salesforce CPQ and Salesforce Billing implementation, the question of how to actually take payments does not come up until the project is underway. When it comes to technical solutions for connecting your payment gateway to Salesforce Billing, understanding your options will put you ahead of the curve.
Take Payment Directly from Salesforce Billing Invoices
Chargent for Salesforce Billing enables you to fully automate the Quote-to-Cash process, by extending the functionality of Salesforce Billing and CPQ.
If your customers are among the 31% of companies who report that lack of payment choice causes friction in paying their suppliers, you have an opportunity to streamline the experience for them, and start taking credit card, debit card, or ACH payments directly from Salesforce Billing.
More Payment Choices, Quicker Cash Collection
In their role as business buyers, your customers expect the same online payment options they experience as consumers. Let them pay how they prefer – and they will pay you faster.
Remove Barriers to Reduce DSO
Breaking down silos between your sales and finance teams is a major benefit of Salesforce CPQ and Salesforce Billing, allowing you to tackle DSO challenges in two ways. First, making it easy for your customers to pay you has an immediate impact on reducing DSO. Further, enabling revenue management to inform the sales cycle helps your team focus on the customers and prospects that deliver the most value.
Improved Visibility and Tracking
Chargent for Salesforce Billing brings together powerful Salesforce Billing features like scheduled payment runs, instant payment allocation, refunds, and self-service pages, with automated, digital payments. This makes it easy for your team to track and manage payment information right in the Salesforce Billing pages they already use.
The Power of the Leading Salesforce Payment App
Chargent helps you take payments everywhere in Salesforce. Paired with the capabilities of Salesforce CPQ and Salesforce Billing, you have an extremely powerful solution that allows you to automate your entire Quote-to-Cash process.
Chargent for Salesforce Billing includes Chargent's full feature set, allowing you to payment enable any object inside Salesforce. Many customers opt to expand their use of Chargent to tackle some of their most complex payment scenarios.
Phone Payments
Your call center or sales teams need to take payments in Salesforce, and it needs to be as simple as possible – with minimal manual effort. However, your finance team needs the sophistication of Salesforce Billing tools to tackle more complex tasks.
With the ability to payment-enable any object in Salesforce, your teams can do their work wherever it needs to get done – once again, fitting the technology to the process, not vice versa. Best of all, with everyone working in the interfaces they are already familiar with, there is no retraining needed.
POS Transactions
Chargent Terminal gives you the flexibility to take in-person payments while keeping all data inside Salesforce. You can enable your team to take payment using Chargent Terminal with a very simple integration, and leverage all the features of Salesforce Billing for your in-person payments, simplifying what can otherwise be a very complex payment process.
Payment Request Link
To give your customers the ultimate in payment flexibility, payment requests can be sent through email, text, or any media with clickable links, enabling secure, flexible Salesforce payments – from anywhere.
Automated Collections
If you'd like to get really sophisticated with automating payments, our Automated Collections add-on module gives you powerful tools like customizable dunning processes, in-depth analytics to improve collections results, and ultimately, better control over your cash flow.
Chargent expands the functionality of Salesforce Billing with a focus on what we do best – payment processing. We've made it simpler to automate your Quote-to-Cash process, and provide a better experience for your customers.
Want to learn more about how automation can put more cash in your Quote-to-Cash process? We've put together some great resources to guide you:
And if you're ready to get started, you can start a conversation with our sales team today.