Businesses should rejoice on the day that payments are collected, but unfortunately, sometimes this isn't the case. For those that receive recurring payments, this day can instead be met with stress and dread. Although the majority of customers pay on time, inevitably, a handful will miss their payment; and this means you have to spend more time tracking them down and reminding them that their account is behind.
On average, 54% of consumers always pay their bills on time, but 46% report that they often pay late, according to surveys by ACI. Business to business (B2B) payments are slightly more reliable, but it can still be challenging – in 2017, for example, the top 1,000 largest U.S. public companies delayed payment to their suppliers and vendors, according to a study by the Hackett Group. Many businesses intentionally delay payment to their suppliers and vendors, in order to manage cash flow, making it difficult to distinguish delayed payments from payments that will never be received.
While late payments are common among all businesses that accept subscription or recurring remittances, they can have a tremendous negative impact on a business's cash flow. Surveys show that around 11% of all invoices issued by SMEs are paid late, totaling around $1.1 trillion per year. As a result, approximately 61% of small businesses struggle with cash flow and almost a third are unable to pay vendors, suppliers, or employees because of it.
Late, missed, and failed payments are things of nightmares, but they don't have to be. Chargent's Automated Collections feature makes collecting late payments a breeze, allowing you to collect far more with much less effort. In this post, we'll show you how Automated Collections work, and how you can use them to streamline your payment collection system.
What is the True Cost of Late Payments?
Late payments can cost a business much more than the actual price of the transaction. When dealing with late payment collections, businesses may incur both direct and indirect expenses that they didn't originally account for. The most impactful expenses include administrative costs, opportunity costs, and bad debt.
Administrative Costs: According to Fidesic Corporation, managing receivables can cost a business up to $8.44 per invoice. The majority of this expense is related to labor and the employee hours required to contact customers and attempt to settle their payments.
Opportunity Costs: As you wait for customers to solve their late payment issues, you miss out on the opportunity to invest that capital into something that could generate more money for your company. Associated costs aren't just the physical funds your business loses, but also the hypothetical capital it fails to realize as a result of hindered opportunities.
Bad Debt: Holding on to accounts receivables for too long will substantially increase your risk of incurring bad debt. When an account is finally deemed uncollectible, it is written in the books as bad debt, making it tougher to create profits. A company with a profit margin of 10%, for example, will need to generate $100,000 in revenue for every $10,000 written off as bad debt. Each day that a payment is late, the likelihood of it eventually turning into bad debt is heightened.
When these factors are combined, they can have devastating effects. The late payment disrupts cash flow, which in turn increases costs, and it also delays your ability to use that money for other investments. As a result, it becomes difficult to pay suppliers and vendors, so you're forced to take out a loan (with interest) to cover those expenses.
Sound extreme? Consider this – as a direct result of late payments, 79% of businesses were forced to spend more time chasing invoices, 48% had to pay their suppliers late, 30% had to increase borrowing, and 10% had to turn down new business; according to surveys by Hilton-Baird.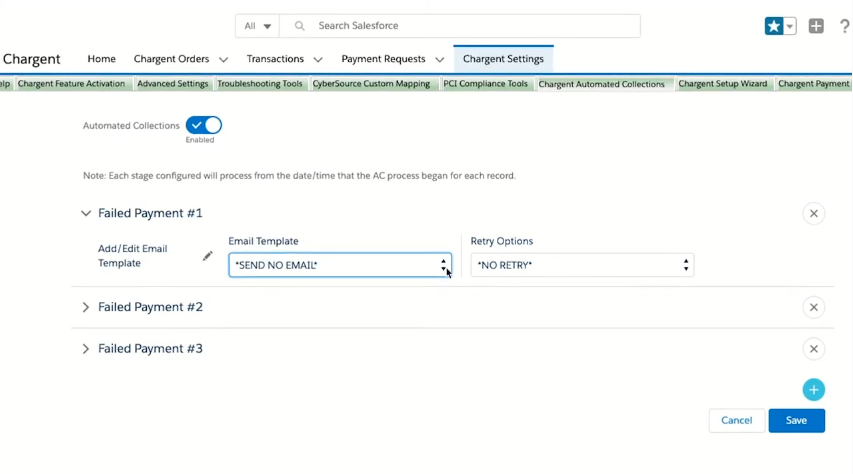 What is Chargent's Automated Collections?
Automation makes collecting late payments an effortless process. At Chargent, we've combined automation with proven collection processes to create our product add-on module – Chargent Automated Collections. The software automatically communicates with customers using Salesforce email templates, letting them know that they've missed a payment, and provides them with a Payment Request link where they can update their payment information and catch up on their account.
Furthermore, it systematically retries collecting payments based on the specific schedule and logic that makes sense for your business.
How Does Automated Collections Work?
The Automated Collections tool was designed so businesses could automate their late payment collections with very little effort. Setting it up only takes a few clicks and a couple of minutes.
First, you'll configure the stages, selecting which email to send and the interval in which you want to retry the payment collection.
Once you've chosen your stages and options, running the solution is as simple as clicking Save and enabling Automated Collections. You can accomplish this by clicking the toggle switch at the top of the Settings tab in Salesforce.
With a few simple steps, you are now ready to collect payments automatically, as soon as the payment fails, with no additional effort from your team.
Automate Salesforce Payments With Chargent
Chargent makes it easier for your business to collect payments with Salesforce. From streamlining recurring payments to Automated Collections, we are sure that our solution will cover all of your payment needs.
How sure are we that you'll love Chargent? We're so sure that we'll give you a free 30-day trial so that you can see for yourself!
As always, we're always here to help. If you have any questions or want to learn more about Automated Collections, contact us today.