Web forms have become a critical asset for collecting visitor information online. Today, they are the most popular lead capture method, and 50% of marketers say that on-site forms are their primary source of leads.
Over the years, Internet users have grown accustomed to filling out and submitting web forms – and now, it is their preferred way of providing information online. These forms enable them to send any required information without having to contact and speak to a representative.
Although online forms were once perceived as too lengthy and exhaustive to fill out, they have changed significantly. New-generation solutions allow website owners to add forms of any type to their website – optimized for easy use and streamlined visitor experiences.
There's no doubt that web forms have their place in lead generation and other online tasks. And when it comes to adaptable and practical online forms, FormAssembly leads the way. This software provides well-designed web forms that are simple to build, quick to set up, and intuitive for those filling them out. Best of all, if you are using Salesforce, you can automatically record all of your form submissions directly in your CRM.
In the following post, we will explore using FormAssembly with Salesforce, and show you how to add flexible payment options to your forms using Chargent's products.
Why Use FormAssembly With Salesforce?
FormAssembly provides businesses with the tools they need to create dynamic, functional, and customizable forms that they can display on their websites and e-commerce platforms. Through these forms, they can collect a myriad of customer information with various formats from contact forms and lead generation forms to order forms and registration forms.
FormAssembly is a web application that you can integrate with Salesforce to keep your customer information organized and aligned. The software provides many features and benefits, including:
Data Collection: Save time and effort by allowing users to submit their information at their convenience. Through FormAssembly's web forms, users can input their data into customized fields and provide their data without an agent or representative's assistance.
Compliance: FormAssembly's web forms are highly secure, ensuring information security and privacy from unintended parties. These forms meet all compliance standards as they relate to the transfer of personal information online.
Simple Use: Through FormAssembly, users can create forms easily without the help of a developer. Build new forms by dragging and dropping template elements from the Form Builder and customize it with your brand colors without writing a line of code. And if you need to update a form later on with a new field or text change, any business user can make the update without assistance..
The greatest benefit of FormAssembly is that it records all submitted form information into your Salesforce Org. This ensures accurate recording of data, eliminates manual and duplicate entries, and aligns customer information across all business processes.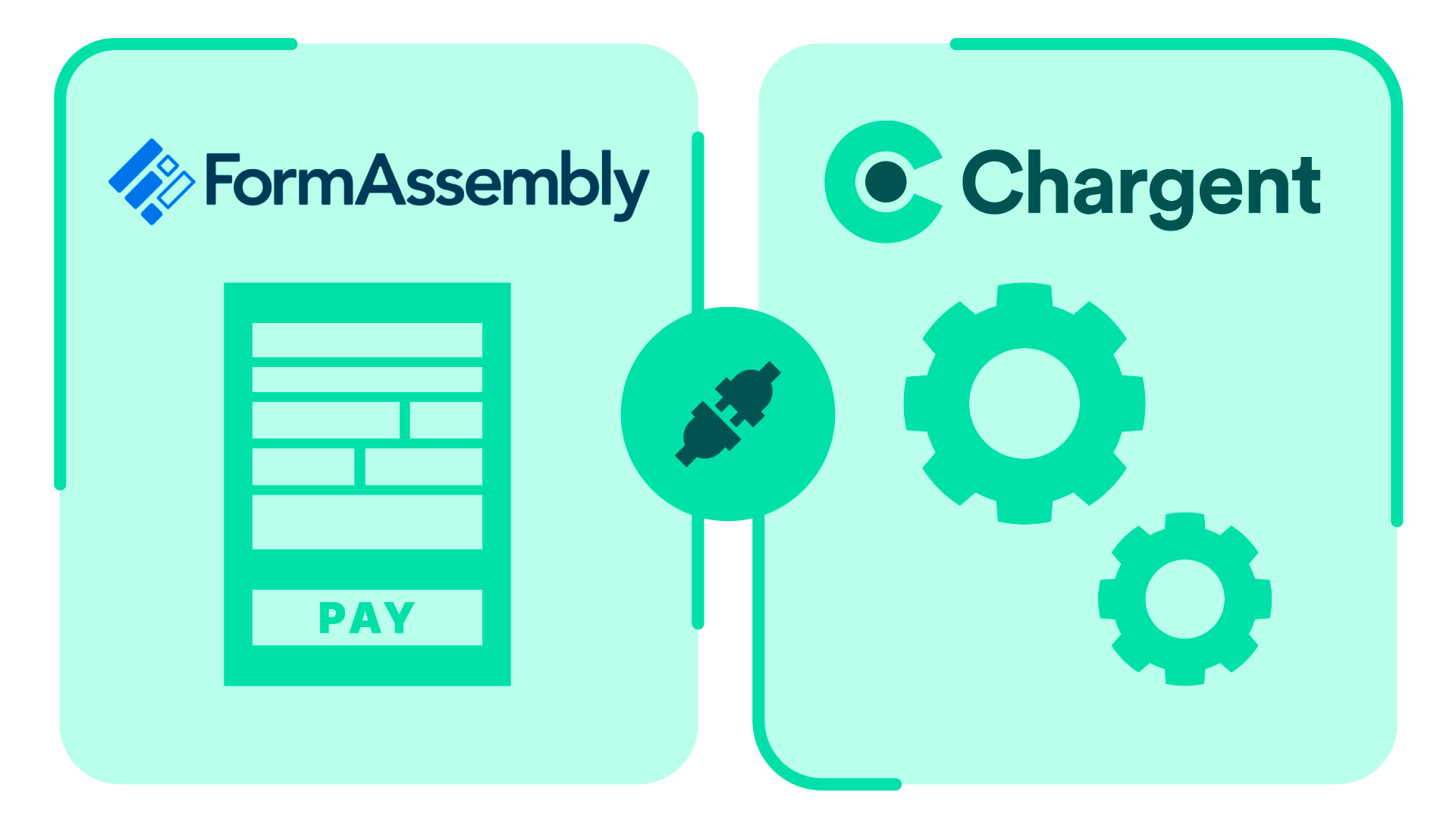 Collecting Payments Through FormAssembly
Lead generation is a popular use for web forms, but businesses can also use them to enable customers to place orders online and quickly collect their payments. When you combine FormAssembly with the unique features of Chargent, you can accept all types of payments directly through your forms – especially if you have a complex business model that doesn't fit standard payment solutions.
Why Combine Chargent and FormAssembly?
FormAssembly offers many available payment Integrations, including PayPal, Stripe, and Authorize.Net. For customers using Salesforce, they also provide a Chargent Connector to access those plus over 30 additional payment gateway integrations.
Connect FormAssembly with Chargent to quickly initiate one-time, recurring, and subscription payments through a form on your website, and immediately record all payment data in your Salesforce account.
Other benefits of Chargent include:
Recurring Billing: Once a customer or donor submits the FormAssembly form on your website, you can use the stored payment information in Chargent/Salesforce to set up recurring payments monthly, quarterly, or any other frequency. Chargent allows you to enable your customers to automatically set up for both recurring donations and subscription payments.
Payment Requests: Use Chargent to send quick and easy Payment Requests to your customers. These requests, delivered to the customer through email, will direct them to a secure link where they can submit their payment safely and conveniently.
Automated Collections: Save time tracking payments by implementing Chargent's Automated Collections feature. Through this feature, you can set up automatic emails to notify customers about late and missed payments – providing them with a link to update their payment information and resolve their payment status.
Flexible Payment Options: Through the Chargent solution, customers can submit their payment through a variety of methods, including credit card, debit card, ACH bank withdrawal, direct debit (Australia), and more. Use Chargent to enable your customers to submit their payments using the methods that they prefer most.
Connecting Chargent With FormAssembly
If you are already processing Salesforce payments through Chargent, connecting with FormAssembly is a breeze.
FormAssembly offers a Chargent Connector as one of their integrations. Connectors are the link between your FormAssembly form and your Chargent Payment Processing app within Salesforce.
To connect the solutions, you should already have an active FormAssembly account connected to Salesforce with an existing form created. Chargent requires that your form contains all the necessary fields for processing your payments, including billing and credit card information.
With these prerequisites in place, you can add your Connectors, configure them, and test everything to ensure it is working the way you want.
Check out the following video for a step-by-step guide on installing FormAssembly's Chargent Connector:
FormAssembly created their Chargent Connector for a good reason – because we are the number one payment processing app in the Salesforce AppExchange. When you combine these three solutions – Chargent, Salesforce, and FormAssembly – you gain maximum control of your customer's experience from the time they fill out your web form and throughout their customer journey.
More Leads, More Payments, More Control
When it comes to web forms, there is no solution as flexible and useful as FormAssembly. Chargent enriches the features of this software by giving you full control over how you accept and manage payments.