Collecting failed payments is a critical part of any business. This is especially true for organizations with recurring billing, such as subscription-based SaaS businesses or nonprofit membership organizations that receive monthly donations. We will explain what successful dunning management is and why it is crucial to your bottom line.
What is Dunning Management?
Dunning is the process of attempting to collect a customer's payment when it is either late or missing. Why do payments fail? There can be various reasons this happens, and all of them can trigger a failed payment.
The credit card has expired
The credit card was canceled
Insufficient funds available
A fraud alert on the credit card
The customer's billing address changed
The customer's account number changed
The organization can go through a series of communications with the customer ranging from gentle reminders to more assertive collections processes. The laws on dunning letters differ from state to state and country to country, so be sure to check the regulations in your area. Overall, the goal is to let customers know there's a problem with their payment and give them a way to take care of the issue while strengthening the customer relationship.
Business owners who don't pursue failed payments in an organized way stand to lose more money than they may realize from their growing Accounts Receivable balance. Not to mention there can be an increase in involuntary churn, customers canceling their accounts due to billing issues that they would otherwise have kept. PWC found that 32% of consumers will leave a brand after 1 bad experience, so getting the details right is very important.
On top of that, uncollected payments can affect everything from your supply chain to payroll. Automating your payment recovery can help recover these failed payments with minimal effort from your team.
The Email Approach to Dunning
Good communication with your customers is key to the collections process and can impact how they perceive your brand. Don't be afraid to be direct, but you want to craft your email communication with care. Here are four things to consider when creating a dunning email to recover lost revenue.
Number 1
Don't blame your customer for the failed payment. We have all made this mistake before. The customer may not even be aware of the problem! Give them a chance to correct any issues and pay the amount due.
Number 2
Your customer has already proven to be invested in your product or service. Show the customer what they will miss by not completing payment. Will they lose premium access to special product features until payment is made? Will their account automatically be canceled if payment is not received by a specific time?
Number 3
Make it easy for the customer to pay. Creating a frictionless process for the customer to pay or update payment info will bring quicker results. Utilize Chargent's Payment Request email template and include a secure, direct link to the customer's account so they can quickly take care of paying their bill. Making it easy for customers to pay can increase your customer satisfaction ratings significantly — and these days, many customers expect convenient online payment options.
Number 4
Use your dunning letter as an opportunity to create trust with your customer. It is essential to show that you value them and understand that mistakes can happen. Show that you honor them and appreciate their business. Create a positive customer experience throughout this process. Treating customers with respect (even when they've made a mistake) will help ensure they show you respect in return.
Automate Authentic Communication with Customers
93% of businesses report late payments. This is an almost universal problem, especially with subscriptions businesses, but luckily we have a helpful solution. Chargent's Automated Collections allows Salesforce to contact customers proactively without expending crucial workforce on accounts receivable.
Focus your time on more important tasks and allow Chargent's fully customizable billing software to manage the missed payments. The Automated Collections add-on module will enable you to set your own collections process.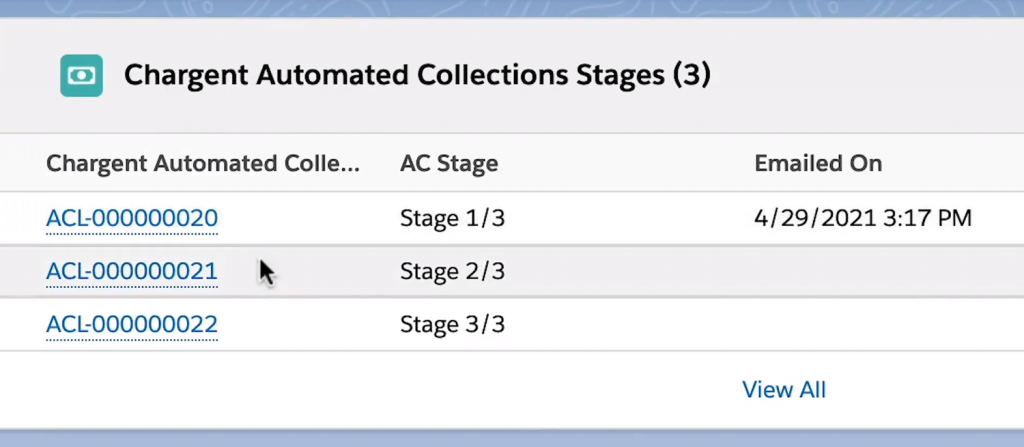 Here is the breakdown of one suggested configuration, once a payment is missed:
Automated Collections is triggered. A record is created, and the module generates a payment link.
The first dunning email is sent to the customer, and the module continues to retry payment processing according to your pre-defined schedule.
Once the payment is captured, the automated collections process is halted, and unused collections stage records are deleted.
The customer's recurring payment schedule resumes.
You're happy knowing your AR is back on track without any action from your team, and you can focus on building towards the big picture.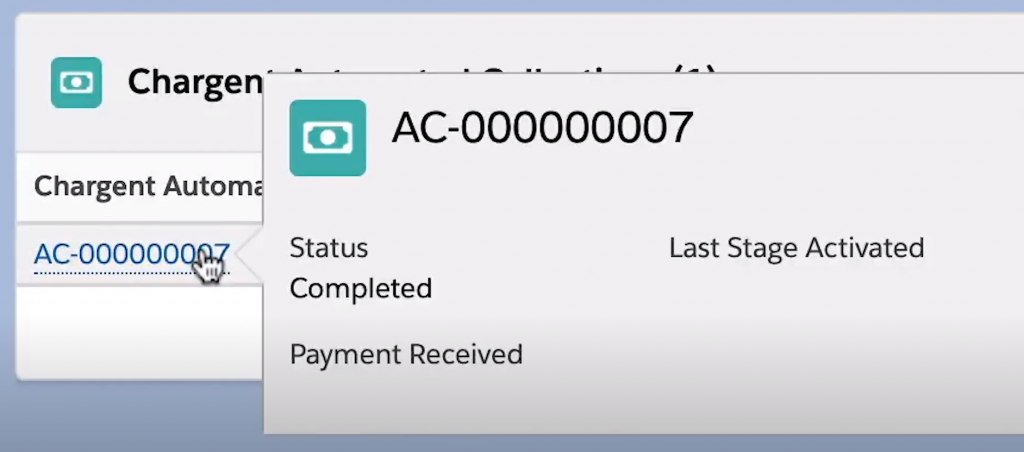 After you have configured your collections system, it's important to occasionally review and test the process to ensure it is functioning the way you would like. Adjust any stages that no longer work toward bringing in payment.
Customer payments can fail for many reasons, including insufficient funds or credit card expiry. A well-designed recovery process can reclaim those payments. Best yet, Salesforce and Chargent are tracking the actual customer transaction data and helping minimize errors. Dartmouth College's Tuck School of Business found that 95% of spreadsheets contain incorrect data. Ensure accurate forecasting and better bookkeeping by managing your AR with software that reduces human error.
Chargent Can Help Failed Payments
Chargent's Automated Collections module allows you to send payment requests to the customer and retry failed payments on a schedule you determine. In a matter of minutes, create the payment recovery process that suits your company's needs, then let it work in the background to bring in failed payments.
Let your accounting and billing team focus on more strategic tasks by utilizing a software solution that identifies, tracks, and recaptures missed payments. Let Chargent Automated Collections do the hard work for you, giving you hours back in your day.
Collecting failed payments can positively affect your AR and, ultimately, your bottom line. If you are already using Salesforce, work with Chargent to quickly and easily automate your dunning process. Contact us today to get started.