It's not only utility and insurance companies collecting payments on a recurring schedule in today's world. From software-as-a-service businesses to non-profit organizations, recurring billing is increasingly becoming one of the most preferred payment models by organizations and their customers.
For organizations, recurring billing presents numerous advantages. It is quick and convenient and doesn't require your customers to go out of their way to make their payment each month. Once they sign up and input their payment information, they are billed automatically, and the transaction is fulfilled with no effort from either party. Furthermore, it allows businesses to predict future cash flow more accurately and creates a more significant customer lifetime value (compared to one-time payments).
If your organization collects subscription, installment, or recurring payments, you might find it challenging to manually process these payments, and most billing system software is very complex and expensive. Fortunately, Chargent makes setting up and managing recurring payments in Salesforce quick and straightforward –meaning that you can immediately automate these payment processes, and gain visibility into recurring billing right where all your customer data already lives. This post will show you how easy it is to set up recurring payments in Salesforce and provide a step-by-step tutorial on how to use Chargent Anywhere to get your payments set up the way your business requires.
Step 1: Prerequisites
Before setting up your recurring billing process, make sure you have Chargent Anywhere configured on the desired object in Salesforce. Chargent Anywhere can be configured to work with any Standard or Custom Object in Salesforce. In this tutorial, we have added the Chargent Anywhere component to the Opportunity Object.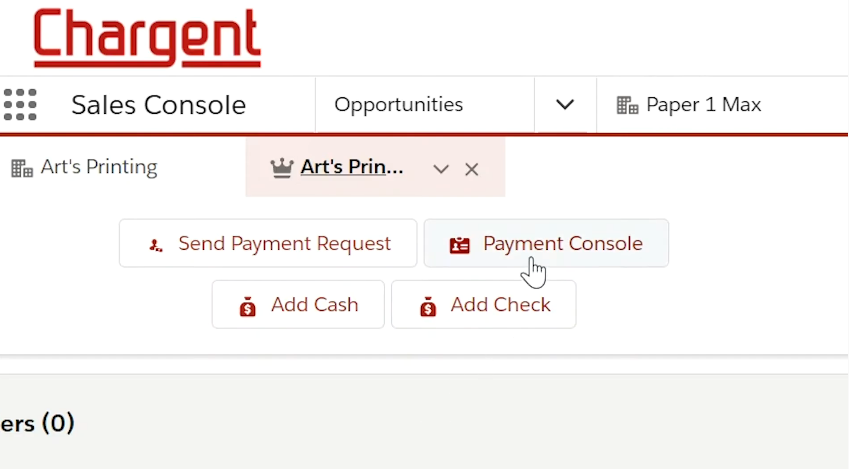 Step 2: Navigate to Recurring
First, navigate to an Opportunity record. From there, find the Chargent Anywhere component and click on the Payment Console button. This action will open the Lightning Payment Console.
On this screen, you will see two tabs right below the contact information – One-Time and Recurring. Click Recurring.
Here's a quick tip. If you do not see the Recurring tab, go to your gateway record. Find the Show Setup Recurring Button field and enable it. You should now see the Recurring tab!
Step 3: Add Credit Card Information
On the right of the screen, you will notice two Amount fields – the Initial Amount and the Recurring Amount.
The Initial Amount is the amount you will charge immediately after finalizing the recurring billing setup.
The Recurring Amount is the amount that the system will charge the customer throughout the subscription's duration.
For example, if you are a business that charges a $200 setup fee and a monthly subscription of $50 – you would add $200 to the Initial Amount and $50 to the Recurring Amount.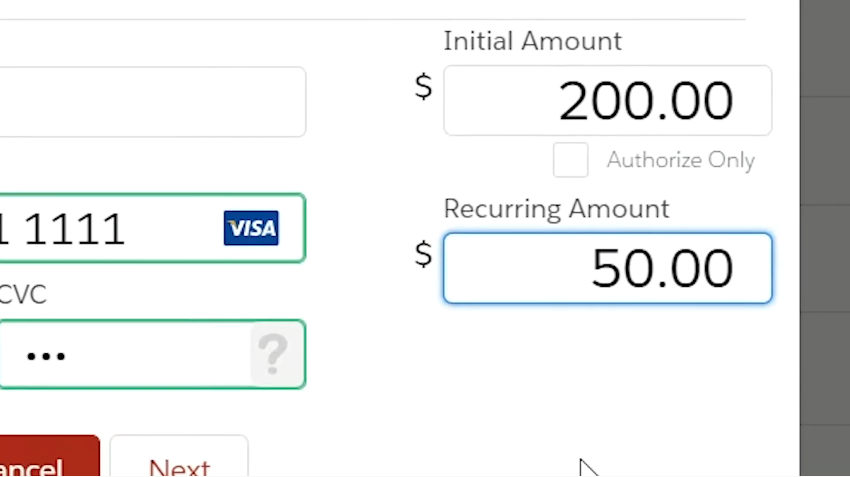 Step 4: Set Up the Schedule
While on this page, Chargent will prompt you to define the recurring transaction schedule. With several billing options, from weekly to biennial and everything in between, we provide flexible schedules to meet the needs of your business. If you collect payments each month, for instance, choose Monthly for your recurring billing schedule.
Next, you will select the payment start date – or the date you will start the subscription. Choose the date that you want to activate the billing process. You will notice that the Fixed Day of Month to Charge field is set to "1" by default. This field describes which day of the month you want the payment to take place. After filling in these details, click Next.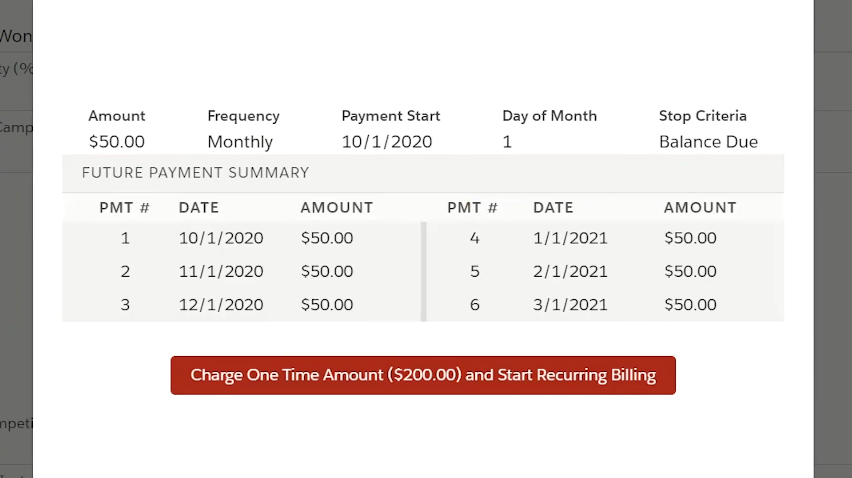 Step 5: Complete the Setup
Your recurring billing setup is almost complete. At this step, Chargent will present you with a Future Payment Summary with recurring billing setup details and the payment schedule. The button under the payment schedule also details the amount you will charge immediately. Click the Charge button to complete the setup.
Chargent – Recurring Billing Made Simple
At Chargent, we're committed to providing our customers with the tools they need to streamline their payment processes – and that's why we are the number one payment solution in the Salesforce AppExchange. Thousands of organizations use Chargent to process recurring payments in Salesforce, and they frequently tell us how the solution allows them to save time and money.
But you don't have to take our word for it. Download the Chargent 30-day free trial and discover how impactful our solution is for yourself!