Mobile payments aren't just a new way of accepting funds; they have changed how and where payments are accepted. Smartphones are everywhere worldwide, and over the last two decades, phone technology has grown from the most basic call capabilities to specifications comparable to desktop computers. Now, smartphone owners can use a single device to download millions of apps, store all types of rich media like videos and music, and make credit card payments in a single tap.
The entire world is moving towards mobile payments, and consumers now realize the convenience of paying this way. In the U.S. alone, experts estimate that there will be over 150 million in-store mobile payment users by the end of 2020. A more significant portion of users would convert if more retailers supported these payments. According to NFC World, thirty-nine percent of U.S. consumers say they would use mobile payments more frequently if more stores and apps accommodated it.
In-store mobile payments are definitely on the rise, and there's another sector growing in parallel – mobile point of sale (mPOS). A mobile POS is a portable point-of-sale system that allows a smartphone or tablet to perform the functions of a terminal. The adoption of these types of payments is snowballing – experts expect global mPOS revenues to reach $50 billion in 2021, up from only $6.6 billion in 2016.
If you collect payments on-the-go, there are better options than accepting cash and check, and then manually inputting them into a management system like Salesforce. This post will explain the benefits of adopting an mPOS and show you how easy it is to manage your Salesforce mobile payments with Chargent.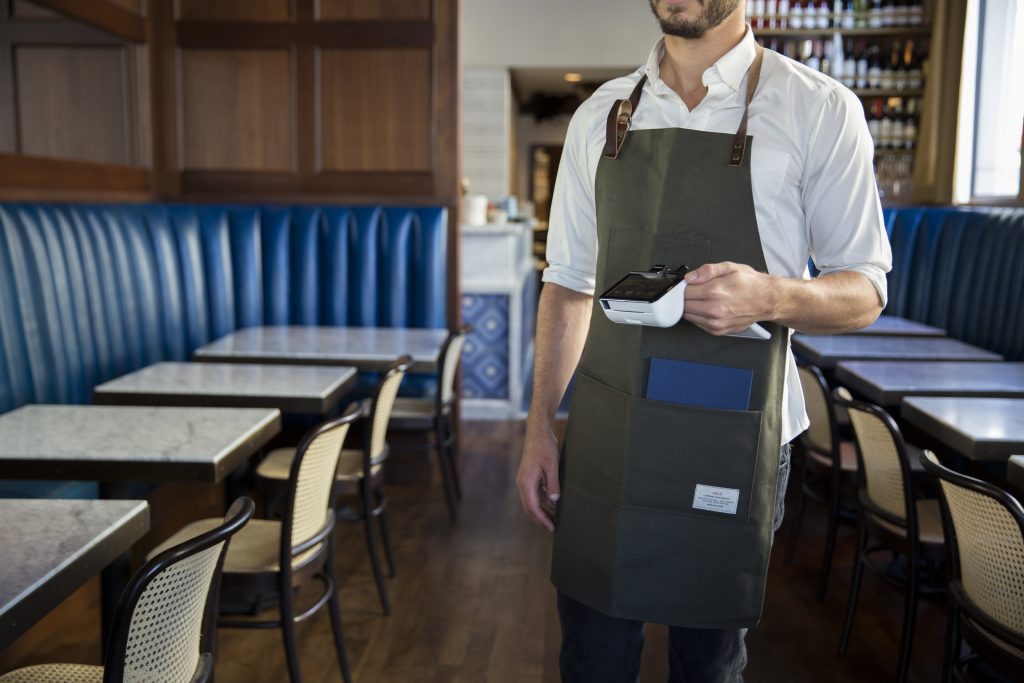 Can mPOS Work for Your Business?
Efficient payment systems are essential for all businesses – even those outside of the retail space. Especially today, many companies (and their employees) operate away from the office and require a payment solution that allows them to collect funds on-the-go.
What type of businesses can benefit from implementing a mobile POS system into their process? Here are a few common use cases for this type of technology.
Traveling Sales
Not all sales take place in a store, in an office, or online. Some businesses send salespeople and representatives directly to the client to pitch the product/service or close the deal. For these salespeople, the process for collecting payment is inefficient and fragmented. After completing the sale, the rep must return to the office, record the sale in Salesforce, send out an invoice, and then wait for the customer to submit their payment.
However, with the optimal mPOS system in place, salespeople can take payments on the spot directly through their mobile or tablet device. This method minimizes the delay between signing an agreement and collecting the funds – while vastly reducing the salesperson's efforts.
Field Service Technicians
Technicians that work in the field have similar payment issues to traveling salespeople. They visit different locations and perform their duties. Then, they collect a paper check from the customer or record their credit card information manually – finally processing it when they reach the office. If funds aren't available, the technician must contact the customer again to resolve the issue. And even if the transaction goes through successfully, this method is not PCI compliant.
Mobile point-of-sale solutions solve these issues for field service technicians and their customers. Right after completing their service, they can collect the payment and close the transaction immediately. This way, the technician ensures that the payment clears before they leave the customer's facility.
Events/Conferences
For those who sell products or services at conferences, trade shows, or other events, payment options can seem limited. Cash handling is slow and risky – physical money can be lost, stolen, mishandled, or miscounted.
mPOS terminals and systems make processing payments convenient and flexible. With the right process in place, vendors can ensure that they accept their customers' preferred methods while handling payments quickly and in an organized manner.
Benefits of Using Mobile Payments in Salesforce
If you're using Salesforce, incorporating mobile payments can be highly beneficial to your organization. Recording payments and customer information in your CRM immediately saves time, reduces errors, and keeps your operations organized. Implementing an mPOS system through Salesforce will give your business several advantages, including:
Payment Flexibility: Mobile payment offers capabilities that most payment systems cannot accommodate. Vendors can collect payments anywhere, whether at an event, a customer's residence or business, or at the service location. Furthermore, they can manage customer funds across numerous mobile and tablet devices – meaning they can scale their sales teams infinitely and quickly provide their employees with the tools they need to accept payments.
Higher Sales Potential: Without an mPOS, salespeople face inefficient processes. The time between when the customer agrees to a deal and when they make the payment is critical. If the delay is too long, they may change their mind about the transaction, or simply be unavailable. Mobile payments allow you to close the sale fully at the optimal time – at the moment that the customer has accepted the proposal and is excited to close the deal. Once complete, the customer's payment is automatically updated in Salesforce, allowing your salespeople to spend more time making sales and less time manually entering data into the organization's CRM.
Enhanced Security: Your business must handle payments and customer data delicately. Cash and checks carry short-term risks, but if you're writing customer credit card numbers on a paper form or collecting their payment information on the phone, you're leaving your customers exposed for the long-term. Mobile payments not only allow you to process credit card, debit card, and ACH payments immediately, but it also protects your customer's information by eliminating the need to collect physical payment instruments or physically handle sensitive data. Furthermore, Salesforce allows you to use tokenization – replacing your customer's credit card information with a series of randomized numbers that you can process without exposing any sensitive details.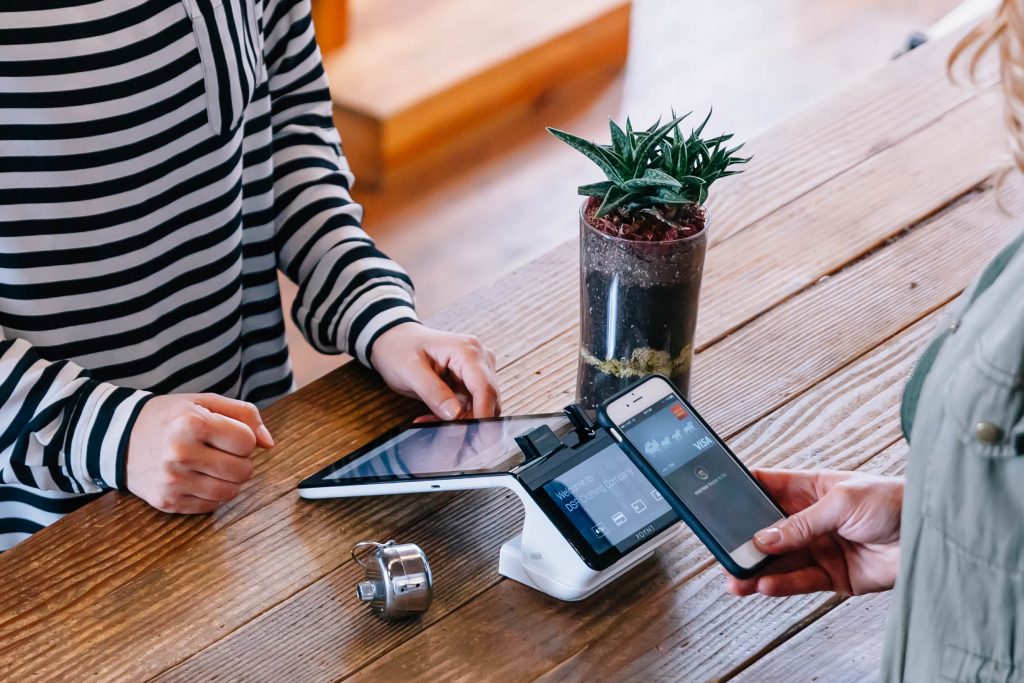 Enabling Mobile Payments With Chargent
If there's one thing we understand at Chargent – it's Salesforce payments. Through our technology, we enable businesses of all types to collect payments efficiently and with minimal effort.
Chargent Terminal
The Chargent Terminal provides the ideal features needed to process payments at conferences, trade shows, pop-up shops, and other events. Unlike other terminal options, it gives you the ability to accept both credit card and smartphone payments via mPOS as part of any Salesforce workflow. Additionally, it provides several other benefits, such as:
Take in-person payments from anywhere, allowing customers to make one-time, recurring, or installment payments.
Receipts are sent instantly through SMS, email, or delivered physically through a built-in printer.
Connect via Wi-Fi / ethernet, 3G, or both.
Supports swipe, chip (EMV), and tap-to-pay (NFC) payments.
Allows mobile payments from both Google Pay and Apple Pay.
Initiate transactions from Salesforce by clicking a button to send the amount to the terminal. Results are recorded back in Salesforce.
Authorize payment or set up a delayed capture.
Payment Console
Chargent's Payment Console makes it possible for your sales representatives to collect payments from anywhere, and through any internet-connected device running Salesforce. Furthermore, it allows you to reduce your PCI compliance scope – using tokenization to ensure that protected cardholder data is never stored in your Salesforce database.
With Payment Console, you can launch a popup window from anywhere in Salesforce and schedule payments with just a few clicks. Furthermore, it allows you to:
Accept payments while improving PCI Compliance.
Take secure phone or call center payments.
Access a user-friendly interface to reduce errors and increase efficiency.
Enable credit card, debit card, and ACH payments.
Charge, authorize, and tokenize customer's payment sources.
Preparing for a Mobile World
The world is quickly changing, and the way consumers prefer to make payments is transitioning as well. Mobile payments, contactless payments, and mPOS systems are becoming more relevant each day, and both businesses and customers now realize their potential. Chargent provides the features your organization needs to create flexible processes, streamline payments, and provide the payment methods that your customers prefer.
Contact us to learn more about how Chargent can empower your business to accept mobile payments and make your payments safer, quicker, and more convenient.