If your company is already using Salesforce, you know how well it has increased your team's organization and productivity. Having a complete database of your customer's information, account history, and purchases saves time and helps your sales reps do their jobs more effectively. Well, get ready, because Salesforce CPQ takes your organization and efficiency to the next level.
If your company offers sales options for customization, quantity discounts, and cross-selling, then Salesforce CPQ is a must for your team. Just as important as the comprehensive customization is the ease of how your team will create invoices and collect payments. Because Chargent is a native-built platform (making it a cinch to use), it is a top-rated payment application to collect payments inside of Salesforce CPQ.
Note: While Chargent does integrate well with Salesforce Billing, in this article we are focusing specifically on Salesforce CPQ, configure price quote software.
Salesforce CPQ
You might be wondering why your business should integrate payment processing into Salesforce CPQ with Chargent. There are many reasons to make this addition to your Salesforce process. The biggest factor is how integrating these two processes will make your sales team more efficient. We know that time means a lot to you and your team
The time lost by switching between multiple applications impacts customer satisfaction, especially if they are waiting on the phone. Having your invoicing and payment processing integrated on one platform reduces the possibility of losing a sale due to making a customer wait.
Another element to consider is the time your team spends on task switching. By integrating Salesforce CPQ, your sales reps will stay in the flow of the transaction without wasting time switching between applications (and dealing with potential network issues along the way).
Modernizing Your Invoice Systems
Integrating Chargent with Salesforce CPQ has helped many of our customers get rid of outdated accounting systems that were costing them time and money. We were able to provide a solution for a company still tracking payments on paper. They were taking down information over the phone and then running to a different part of the building to enter credit card information by hand into a physical terminal
We were happy to help them replace this outdated method. "Old school" methods like this increase costs even further by forcing businesses to pay higher rates on transaction fees by hand keying the numbers versus swiping, tapping, or dipping the card.
Guaranteed, there is a better way to do business. By leveraging Chargent inside Salesforce CPQ, all of your important data stays within the Salesforce platform. One system to track, monitor, and schedule or collect payments provides the ease of efficiency that is fully customized to your needs.
Finally, your team is more focused on selling, as payments are simple, fast, and fully optimized. With this integrated invoicing software, your agents spend less time taking payment and more time actually connecting with your customers and finishing the sale. That sounds like a customer service win on both sides.
Using Chargent: Start to Finish
How does the process work from beginning to end? There are different roles that interact with this platform at different parts of the process. Let's explore how to utilize Chargent integrated with Salesforce CPQ from start to finish.
Sales Agent
The sales agent uses an "opportunity" to manage the products and offerings of the company and the potential customers to whom they can sell. Once the sales agent has a customer ready to buy, they will create a new "quote" on the Salesforce CPQ platform. The agent is able to choose the best set of products for the customer through this quote form. Once everything has been included, the agent saves and closes the quote form. From there, the agent is returned to the "opportunity" screen, where they are able to set the opportunity to "closed."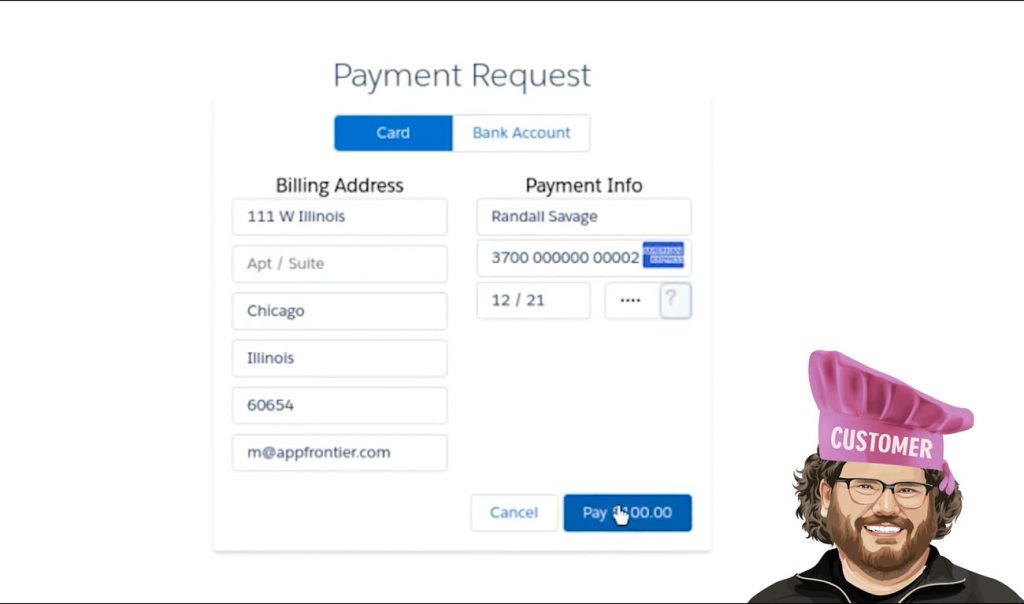 Order Management
The order manager is able to see that an initial order has been created by the sales agent. Once the order manager has selected the order, they will review it to make sure that everything looks correct. After which, the order manager simply activates the order. That sends the order on to the billing department.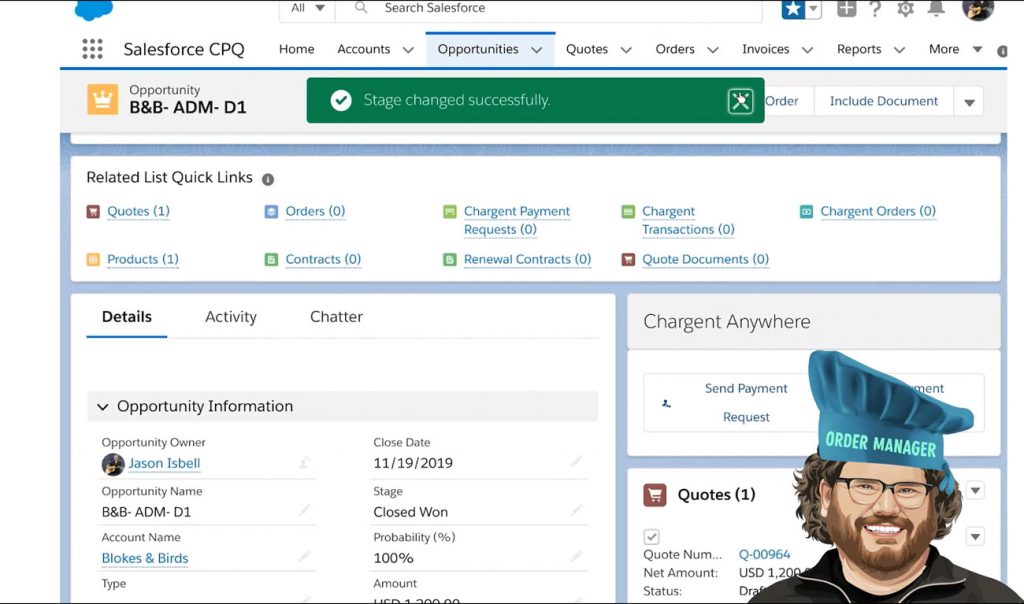 Billing Specialist
After reviewing and confirming the order for accuracy, the billing specialist clicks the "bill now" option and saves the order. The "bill now" automation generates the creation of an invoice. Once the invoice has been created, there are two different payment options. First, the billing specialist could collect payment over the phone with the customer. The specialist enters the payment details on the Chargent Payment console. Or second, the specialist can simply submit a payment request, which is located on the invoice itself.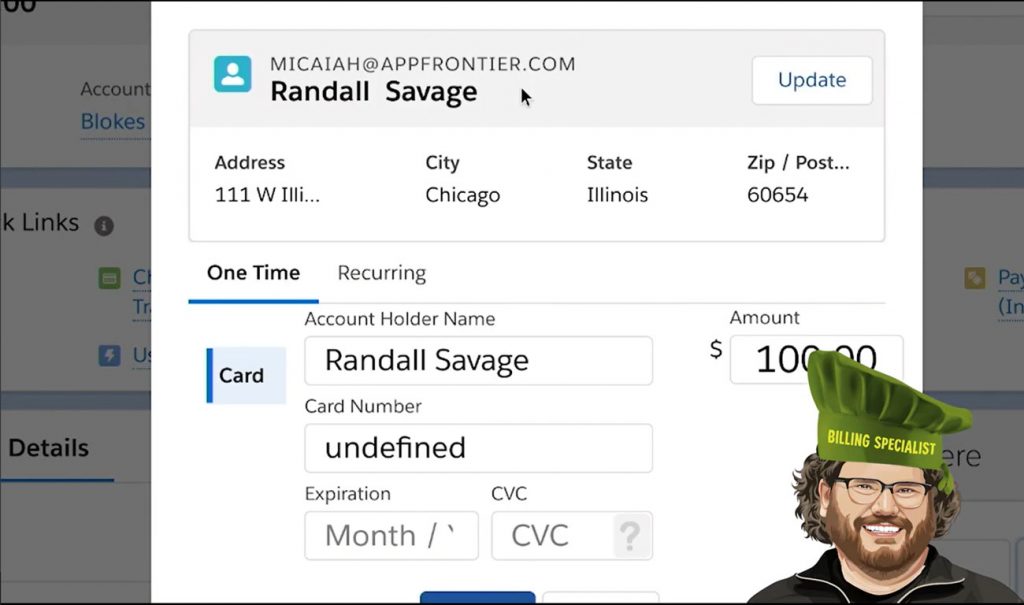 Customer
The customer's experience for submitting a payment is easy and fast. Once they receive the online invoice via email, they are able to click the "pay now" link within the email. That link directs them to a payment page (which is fully customizable by the company). The customer is able to then enter their payment information on this fully secure payment page.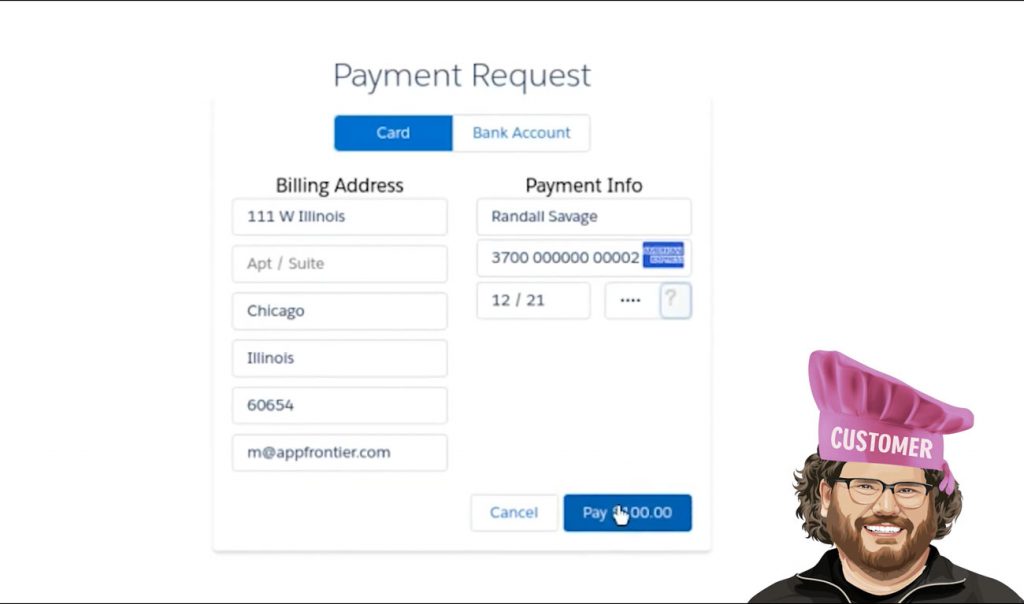 Bookkeeper
The bookkeeper is able to see when the payment is successfully received from the Salesforce platform. From there, they are able to send it to the accounting system to be entered. The sale and payment process is complete.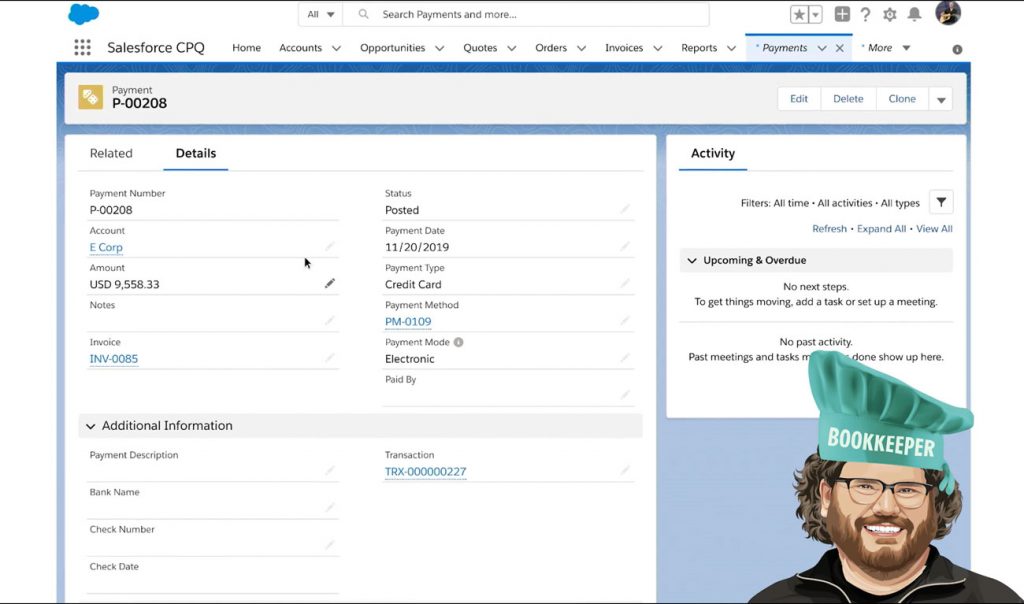 Dynamic Duo
Salesforce CPQ integrated with Chargent is an easy and effective way to send invoices and collect payments from your customers. Customer experience remains one of the most important factors in retaining and gaining repeat customers. An integrated payment processing platform like Chargent can ensure a faster and more efficient team on the back end and satisfied, trusting customers on the front end.
Updating your invoicing and payment system doesn't have to be difficult. You don't need to be a developer to install Chargent into Salesforce CPQ, which means you get started quickly and begin saving time and money. Contact us today to learn more about how Chargent can help your company modernize your invoice and payment system.