This is the age of subscription businesses. There was a time when a customer had two, maybe three subscriptions at most – magazines, cable, and a library/gym membership. Now, thanks to the internet, any product/service can use a recurring billing system – video streaming, music, games, e-Commerce, books, software, even razor blades.
While we are still far away from "subscription fatigue," the threat of customer churn rate is higher than ever before. All businesses suffer from delayed or failed payments on a routine basis. But the impact may be more keenly felt in a subscription model as it often leads to cancellation or expiry of a subscriber account (involuntary churn).
An automated dunning process is your best defense against involuntary churn due to failed payments. In this blog post, we will explore the origins of the term dunning, and how it works in a modern, online setting for SaaS businesses and others who use recurring billing/subscription models.
What is Automated Dunning?
Dunning is the process where business owners try to collect payment owed to them by customers. It originated from the verb "dun" in the 17th century English language, meaning "to demand payment of a debt."
While it is still used in accounting, dunning is rarely used in popular parlance. Most people may not even know the meaning of the word. Instead, we prefer using terms like accounts receivables or a collections process that recovers lost revenue. The Chargent automated dunning management system is simply called Automated Collections.
In its archaic origins, dunning could mean a host of different strategies – verbal reminders, warnings, letters, sending collection agents, and even threats and intimidation. Modern iterations from a SaaS perspective are far more positive and benign!
For modern subscription businesses, dunning is all about assisting your clients to make timely payments. The focus is on ensuring that customers do not lose out on the services they value and enjoy. Firms use digital tools called Dunning Management Systems to deliver timely reminders and updates regarding upcoming and failed payments to customers.
This entire process of dealing with common accounts receivable payment issues is called Automated Dunning. The software uses emails, SMS, app updates, and other forms of digital communication to connect with customers. Businesses can program the software to deliver customized and personalized updates both before and after the payment due dates.
Now that we have a basic understanding of the concept, let's explore how your subscriptions business or SaaS service can benefit from using automated collections in Salesforce:
1. Reduce unintentional churn with automated reminders
Unintentional churn, also referred to as involuntary churn, occurs when a subscription is canceled due to a failed payment. It can happen due to myriad reasons – an expired card, insufficient funds, network issues, stolen/lost cards, etc.
In many instances, it is a case of oversight – the customer forgetting to renew a card or maintain adequate balance. This is quite common, accounting for anywhere from 20% – 40% of all churn in recurring billing services.
Apart from a direct negative impact on your cash flow, unintentional churn can also affect brand value through negative customer experience. But the good news here is that it can be easily solved in most instances, with a little extra attention.
Often, a timely email reminder/update to the subscriber is all that is required. If they value your service, they will take adequate steps to provide alternate payment methods and keep the subscription alive.
By automating these dunning emails and message notifications, you can significantly reduce your involuntary churn rate and help improve financials – retaining a customer is at least 5x cheaper than acquiring a new one.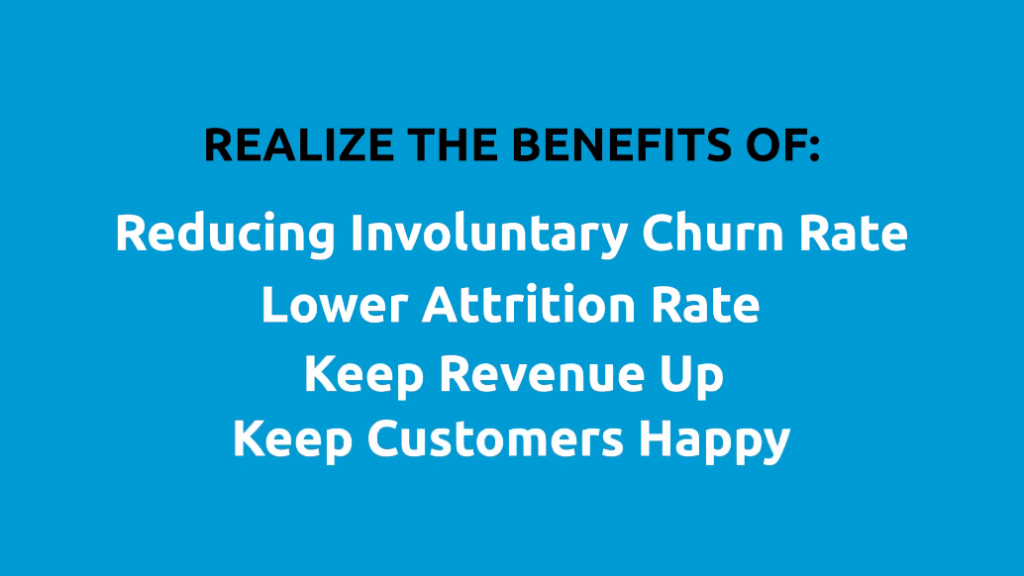 2. Avoid failed payments using pre-dunning notifications
Yes, failed payments can be dealt with relative ease using automated dunning. But you cannot do anything to erase the negative experience a subscriber has to put up with every time they receive a failed payment reminder.
It is indeed a very messy situation that is best avoided in the first place. And this is indeed possible with an automated approach to dunning. It involves taking a more proactive stance in preventing payment failures before they manifest.
Instead of waiting for a declined card transaction, use Chargent's Account Updater to send pre-dunning alerts. When sent the month before a credit card on file is going to expire, these email alerts give your subscriber enough time to click a link and provide an updated credit card number or expiration date. That way the payment information is updated before the due date, and the transaction is not declined on their next subscription renewal payment.
This approach can save you a lot of time and effort that would otherwise have been wasted trying to recover lost revenues. It helps prevent failed card transactions, allowing your firm to receive payments without incident.
3. Manage your collections where your customer data lives
Ideally, have your collections receivable automation software located on the same platform as your customer data. Having it any other way creates unnecessary and avoidable operational complexity.
For instance, if you are on Salesforce, you want a dunning management tool built to work flawlessly on the platform. This way, you can easily combine the Customer 360 data access with an automated payment reminder system and get smooth functionality.
In particular, you can achieve highly effective synergies between Salesforce features and your automation software. The dunning email alerts system can make good use of the fantastic email templating tools provided by Salesforce to its business clients.
4. Improve customer retention with notifications and retries
Coming from the previous three benefits, this one is fairly self-explanatory. Automatic dunning can sort out canceled or failed payments in nearly 9 out of 10 cases. A lower churn rate means improved customer retention, both short-term and long-term.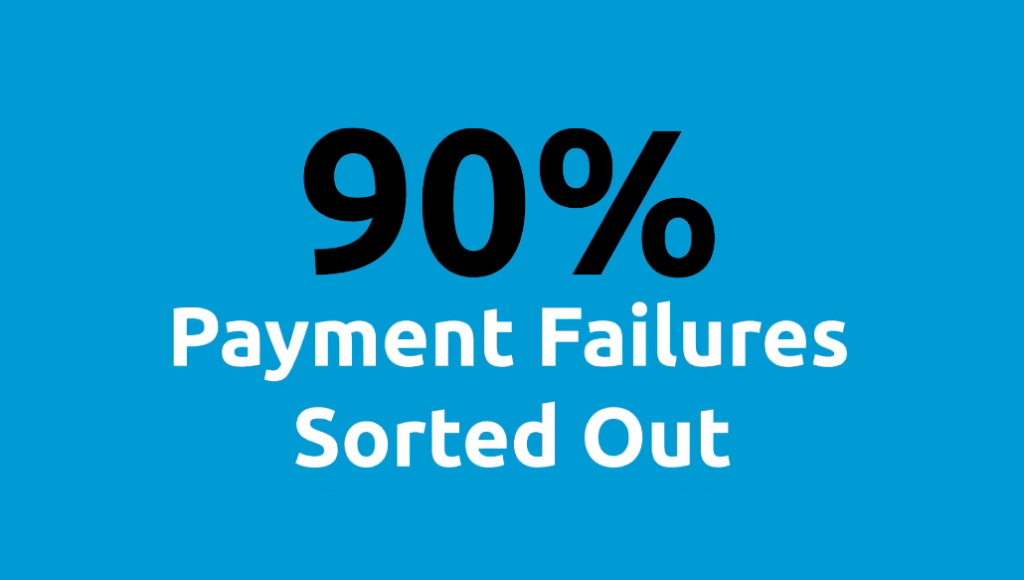 Avoiding the immediate cancellation of a subscription is a short-term benefit. But on top of that, it also results in happier customers – a full 75% of organizations with automated accounts receivable functions say they help them provide better customer experiences.
The long-term implications are quite significant indeed – as happy and satisfied customers tend to remain extremely loyal to their subscription services. Along with timely and thoughtful email reminders, strategically timed payment retries are also important in delivering a positive customer experience.
5. Improve customer communication
Successful dunning is a highly sensitive process – often there is a fine line between a friendly payment reminder and one that comes across as rude and spammy. With a dunning management tool, you have full freedom to set the tone of the message – the software only handles the automation.
As long as you exercise due caution in the wording, frequency, and timing of alerts, you have a massive opportunity to leave a lasting impact on your clients. You definitely don't want to look or sound like traditional collection agencies involved in bad debt recovery.
Be nice and polite to your customers and use positive and supportive messages. It will only make your payment recovery experience that much easier. This approach also helps build rapport between organizations and their subscribers.
If you get to a point where service will be interrupted due to nonpayment, a firmer tone may be warranted, to make sure your customer is aware of the consequences. But polite and professional "please update your payment method" emails are always warranted.
Final Thoughts
It is abundantly clear that an automated dunning service is almost mandatory if your firm uses a subscription/recurring billing model or collects donations. If you are on Salesforce and in the market for an effective dunning management tool, Chargent Automated Collections is what you need.
This add-on module is 100% native to the Salesforce platform and works smoothly with other Chargent processes. Schedule pre-payment notifications, send payment request links, schedule retries of failed credit card payments, and more. There is also a Free Trial option — you can test all these features for 30 days, directly on your Salesforce platform!
Class-leading tools like these help to free up your accounts receivable collections team to work on other essential projects. Given the recent staffing challenges posed by the pandemic, this could be a game-changer for smaller firms.