Insurance businesses have unique needs when it comes to managing policyholders and their payments. From communications and customer service to collecting payments and handling claims, there are many areas where the lack of established processes can lead to operational inefficiencies, data errors, and slower claim resolutions.
Salesforce has many standard features that are ideal for insurance businesses. Recently, they launched an Insurance CRM that focuses explicitly on streamlining insurance operations. When combined with a sophisticated payment system like Chargent, Salesforce's CRM makes managing your customers and policies simple and straightforward.
In this post, we'll explain how Salesforce and Chargent can impact your insurance business, enabling you to manage payments accurately, effectively, and effortlessly.
How Does Salesforce Work for Insurance Companies?
Today, over 150,000 businesses are using Salesforce daily. From non-profit organizations to Fortune 500 companies, Salesforce's dynamic features have proven beneficial across numerous industries with various business models.
Insurance companies operate differently than other organizations, from how they onboard customers to their process for collecting payments. They require a different type of solution than other businesses – one that can address their specific needs and solve their particular challenges.
With an array of useful features, Salesforce provides a long list of benefits to insurance providers. The most significant advantages of using this solution are better data organization, a deeper understanding of your customers' needs, and a streamlined experience for all parties.
Organize Data: With Salesforce, you can quickly enable your customers to self-service the information collection and onboarding process. Self-servicing requires less work for your employees, results in fewer data entry errors, and provides more convenience for your customers. Most importantly, once submitted, all the information is recorded directly in Salesforce – organized and accessible by anyone in your organization.
Understand Your Customers: The more information your salespeople and service agents have available, the more effective they will be in servicing your customers. Salesforce allows you to keep a record of each policyholder with a comprehensive view of the details of their policies, payment history, contact information, and more. This information is available to any administrator in your organization – ensuring that employees have the information they need, in a single place, when communicating with current or potential customers.
Create a Better Customer Experience: Through Salesforce's Insurance CRM, businesses can streamline their operations and create a more efficient customer experience. With Intelligent Task Prioritization, agents can first address the most urgent cases, ensuring prompt service for each customer. Furthermore, it alerts agents of important customer life events, which they can leverage to make additional sales.
Salesforce helps insurance businesses operate in an organized and unified manner. Still, there's one area that you may find challenging to streamline even if you're using Salesforce's Insurance CRM – and that's payments!
Streamlining the Installment Payment Collections Process
One of the most challenging operations for insurance providers is payment collections. Insurance companies require flexible payment solutions that allow them to accept payments in their preferred way – including one-time policy payments, quarterly installments, or even monthly installments. Many payment solutions lack the functionality necessary to collect payments across different schedules.
Even with Salesforce's out-of-the-box solutions, insurance companies may find it complicated to offer different payment schedules or accept various payment methods. Chargent exists to solve these challenges by making payments more flexible, more convenient, and more secure. From recurring billing to automated collections, Chargent is the Salesforce add-on you need to modernize how you handle payments and improve your organization's productivity.
Automate Payments with Recurring Billing
For insurance businesses, collecting the full policy amount upfront is ideal, but it is not always practical for customers. Many insurance customers prefer paying their policy in smaller, more frequent payments. But numerous installments can add more work for your staff if the right systems aren't in place. Collecting more payments means invoicing more often, sending constant emails, and processing payments continuously.
Installment payments may make it easier for customers to afford their policy, but it requires more effort on their part too. As opposed to submitting a one-time charge that lasts the policy's life, they now must remember to make a payment at each installment period, log onto your company's website, add their payment details, and submit their information.
When it comes to accepting installments, recurring billing is easier for everyone. Customers are charged automatically on a defined schedule – without the need for an agent to contact them or the inconvenience of calling in to submit payment. As long as the customer has enough funds or credit available with the payment source they have on file, the payment will process on-time, with no effort required from the customer or your employees.
Your organization may find it difficult to set up this type of system in Salesforce, but Chargent makes it easy to automate recurring billing on your preferred schedule. With a flexible payment solution, you can offer numerous installment options and simplify the management of each policy. Chargent's recurring billing feature provides several options that benefit insurance providers, including:
Accept numerous payment methods, including credit card, debit card, and ACH bank withdrawal.
Initiate ongoing billing, or end after a certain number of payments, on a specific date, or when the balance due equals $0.
Choose from nine different recurring periods: Daily, Weekly, Biweekly, Monthly, Bimonthly, Quarterly, Semiannual, Annual, Biennial.
Salesforce is flexible, adaptable, and can accommodate uneven scheduled billing through Chargent, or billing on specific dates rather than frequencies, with some minor customization.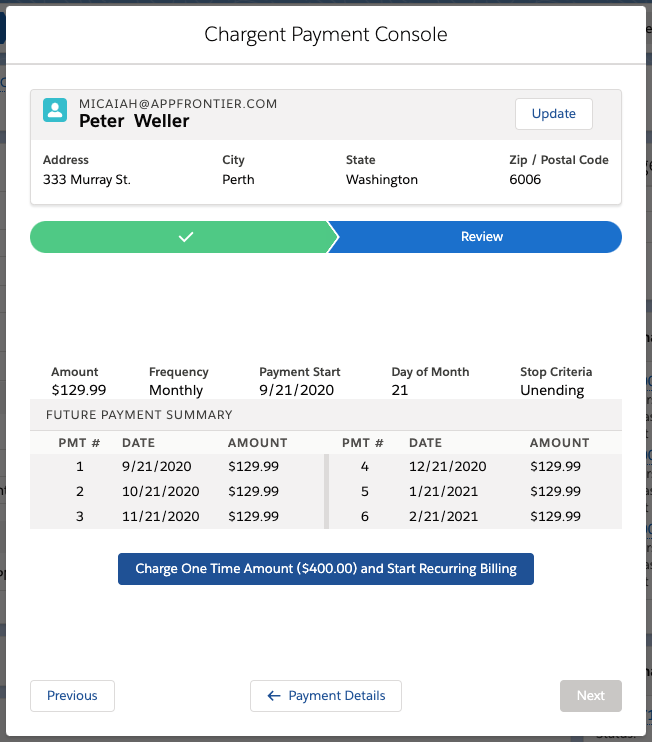 Retain More Customers With Automated Collections
Your agents are most valuable when selling new customer policies, but they often spend most of their time servicing current loans and chasing down late and failed payments. For each day that a payment is late, the likelihood of the customer returning to resolve their policy diminishes. Once they have lapsed for too long, they may begin exploring other options.
Customer retention is essential to your company's reputation, cash flow, and profit margins. According to Invespcro, acquiring a new customer can cost up to five times as much as retaining an existing one. One of the best opportunities to retain a policyholder is when they miss a payment, but chasing down missed payments means making reminder calls and sending emails out until the customer responds.
Just like recurring billing, you can automate much of the collections process too. Chargent allows you to set up a simple but effective collections system. If a customer misses an installment payment, the solution will retry their payment method multiple times at a set interval. If funds are still unavailable, the customer will receive an email, notifying them of their late payment status and providing a link where they can update their information and resolve their situation.
With Chargent's Automated Collections, you'll have the opportunity to retain more of your customers, extend their lifetime value, and eliminate the hours spent chasing missed payments.

Ensure Payment Security
If your organization collects installment payments over the phone, you may be putting your customer's information at risk. Requiring a customer to recite their payment information aloud to an agent can expose their payment details to anyone within close vicinity. Also, since agents record the information, a disgruntled employee could use the customer's details for non-authorized purposes. Even if your company closes new policies on the phone, there are much safer ways to collect payments.
Chargent enables you to secure your payment system by sending a Payment Request instead of requiring employees to collect payment details directly from the customer. A Payment Request is an email sent to the customer that showcases their policy's price with a "Pay Now" link. The link directs the customer to a payment page with secure fields where customers can enter and submit their information at their convenience.
Sell More Policies, Collect More Payments
Salesforce offers many features to help insurance companies become more efficient when managing their customers. But when you add Chargent, your payment system becomes more flexible, scalable, and convenient with less effort from your agents.
If you are using Salesforce to manage your insurance customers, Chargent is the solution you need to maximize and automate your customer operations.