Managing recurring and subscription payments without automated processes can cost your organization time and money. 52% of accounts receivable leaders surveyed by the Institute of Finance and Management said that 'too many manual processes' is a major reason that some receivables move to collections (PYMNTS). Fortunately, there's a simple solution to automate billing, deal with failed payments, and streamline your workflow!
Chargent can automate your subscription billing and save your accounting team time by automatically processing recurring revenue, all inside Salesforce! Learn how to set up and automate your Recurring Billing system using Chargent's Payment Console. With Chargent, you can set up recurring billing automation, send account update requests for customers to update their payment information, and handle failed recurring payments.
This feature is a huge bonus for subscription businesses. Chargent's robust Recurring Billing feature allows you to set up scheduled payments for whatever frequency you need. This can be annually, monthly, or one of 8 frequencies, including bi-monthly or semi-annual. You can even schedule a one-time payment for a future date.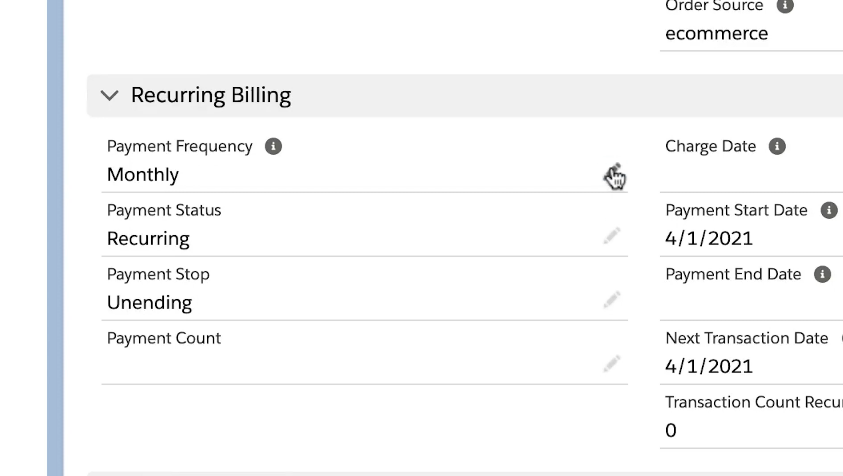 Chargent also allows you to set your payments to be unending. You can also specify a stop date for installment payments once the balance is paid or if there is a specific end date or number of payments you have agreed upon in a contract. Whether you have a subscription business or need to automate recurring payments of a shorter duration, this feature will make your Accounts Receivable and cash flow process easier.
Once you have the Chargent Anywhere component installed on the object of your choice, you will use the Payment Console to set up your Recurring Billing. To be clear, the Payment Console is available only in the Platform and above of Chargent.
Step 1 – Enter the Billing Information
To begin, press the Payment Console Button.

You will be prompted to enter the customer's billing information, such as the name, address, phone number, and email address.

Using the component configuration, you can map the account field and the contact field if you want Chargent to auto-populate this information.
Step 2 – Select the Recurring Status, Enter the Amounts, and the Credit Card Information
Clicking the Continue button will bring you to the screen to select the Recurring Payment option.
Enter in the credit or debit card information and billing amounts.

You can select a one-time payment today and schedule the remainder of the payments, or you can schedule all payments to be automatic in the future.
Step 3 – Set up the Recurring Schedule
Click Next, and you're ready to set up the Recurring Billing schedule.

Select the frequency.

Monthly, quarterly, and annually are the most common for recurring billing, but you can set it to process payments for whichever frequency you want.
"Next Automatic Payment Date" determines when the first automated charge will be processed.

The "Stop Rule" allows you to set when the recurring payments should end.

You can set the Stop Rule to a specific end date, after a Count of successful transactions (meaning the number of approved charge transactions that occur) or when the balance due is zero.
For subscriptions, set it to "Unending," which allows payments to continue processing until you manually set it to stop.

The Fixed Day of the month allows you to process payments on a specific day of each month. Think of this as the tuning fork that keeps your cash coming in predictably on the same day each month.
Step 4 – Preview the Recurring Schedule and Start Processing the Payments
Clicking the Next button will give you a quick preview of the billing schedule.
To begin recurring billing, click the button.

Depending on your settings, this button will either say "Start Recurring Billing" or "Charge One Time Amount and Start Recurring Billing."
That's it! You have now successfully set up a Recurring Billing schedule using Chargent Anywhere.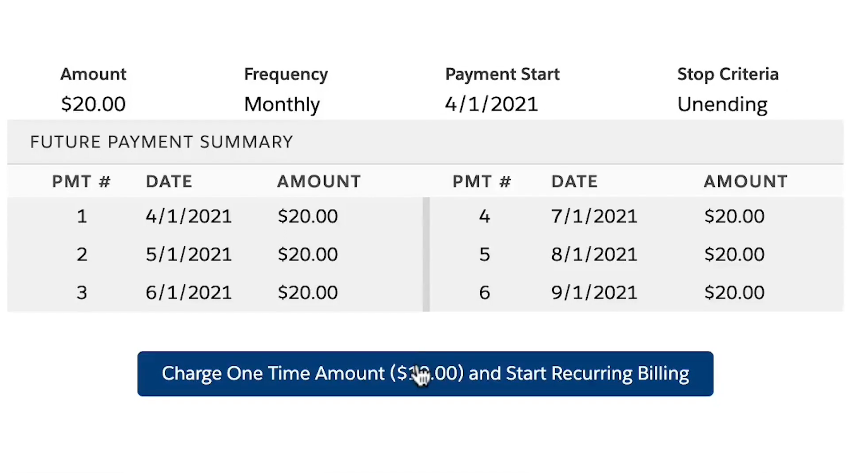 What happens when a payment fails?
It would be great if we lived in a world where transactions never declined, and you received all scheduled payments without doing any collections. The excellent news is Chargent has several great features to help automate your AR payment collections process.
Account Updater
Chargent's Account Updater feature will help prevent declines before they even happen. This feature works with Payment Requests and can automatically send an email when a credit card is about to expire. This handy feature allows you to manage your billing before a declined transaction happens without missing a beat. Some folks call this "pre-dunning," or in other words, stopping a collection process before it starts.
Automated Collections
The Chargent Automated Collections add-on module automates your dunning process. Our collections system sends your customer a payment link, which allows them to make their payment. When a payment fails, the process you define in Chargent will trigger retries. It can also send a custom collections email to facilitate the payment process in a cadence that you specify. Our automated system handles all the hard work, ensuring that your team only manages the edge cases.
Chargent's Automated Collections feature is a billing solution that will streamline your entire dunning process. All you need to do is configure each stage to create a collections campaign that determines:
How frequently an email is sent after a failed attempt
How often the transaction should be attempted again.
The duration of the automated collection campaign.
You can use your own Salesforce email templates for each stage and include a Payment Request link allowing you to automate your collections process. The automated emails will save you valuable time reclaiming declined charges.
A Recurring Billing Platform Made for Organizations Like Yours
Chargent can help automate your Recurring Billing and save you time with collections by preventing and following up on declined charges. Our recurring billing platform streamlines your Accounts Receivable. Chargent for Salesforce is a billing solution that prevents and solves problems as they arise in real-time. See for yourself how subscription management can be a breeze with accounts receivable software built to help you succeed with a free trial.