WHAT IS FIRST PARTY COLLECTIONS
?
Many companies are moving their collections fully in-house, pursuing failed payments and unpaid invoices themselves. This is known as First Party Collections.
First Party Collections allows your organization to retain 100% of what is collected, as well as how it's collected. Create a positive customer experience that can strengthen loyalty to your brand, rather than turn into an angry social media post. Remove concerns about compliance and payment data security by managing everything in-house.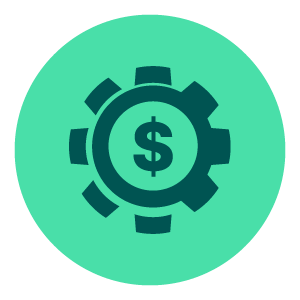 Third Party Collections
The primary benefit of Third Party Collections has always been that it is performance based. Outsourcing to a third party typically means they don't get paid unless they recover "uncollectable" payments. This can lead to unpleasant experiences for your customers when quantity is emphasized over quality.
Traditionally, Third Party Collections companies gave you the ability to focus on other parts of your business. They often have access to proprietary technology not available to most organizations.
Today with Chargent's Automated Collections, those last two benefits can be achieved through First Party Collections.
If you are using Salesforce, you now have access to automation technology that allows you to efficiently collect on debts. Many manual processes like retrying payments or sending emails are automated, allowing your collections team to focus on higher touch activities such as phone calls or setting up payment plans.
Automate Your Collections Process
You can easily configure multiple stages and collection flows in Salesforce with Chargent. Each stage can retry a payment, send an email with a link to update payment information, or both.
21% of failed payments can be resolved within the first few days, simply by retrying the card on file before sending emails
Once retries and email communications are configured in Salesforce, they happen automatically, and can be adjusted at any time to meet your changing requirements.
Payment plans can also be set up in Salesforce for selected customers who engage but cannot pay the full debt at once, using Chargent's core recurring billing functionality.
Collections Dashboard and Analytics
Managing First Party Collections in Salesforce where your customer data lives keeps learning inside your company, allowing you to improve processes for your specific customers.
Identify which stages are most effective for bringing in payments in your debt collection process with Chargent's Automated Collections built-in reports and dashboards.
Mitigate debt recovery challenges and optimize your collections workflow leveraging the power of data. It could mean the difference between collections frustration and success.
Control Customer Experience
For many organizations, moderating the tone and messaging of customer communications is reason enough to consider First Party Collections.
You are already managing communications with your customers in Salesforce. Adding collections processes that reinforce your organizational goals and mission can maintain and even strengthen your relationship with customers.
Working in Salesforce, rather than a siloed application, means your team is always working with the most current customer data. You'll be aware of and have records of customer touch points happening across your organization, from sales to customer service to billing and collections.