After processing more than 20.1 billion payments annually, it's easy to see how Worldpay (formerly Vantiv) has grown to become one of today's largest U.S.-based payment processors. Acquired by Fidelity National Information Services (FIS) in 2019, Worldpay serves hundreds of thousands of businesses spread across eight countries.
Combining Worldpay with Salesforce gives you a significant advantage – you can accept the payment methods you require while keeping all customer and payment data organized in one place. However, if you're processing recurring or subscription payments, collecting payments through Worldpay may require complex setup and development – unless you're using Chargent.
Chargent makes payments more accessible, safer, and more flexible. And with the ability to connect to over 30 gateways, it allows you to expand your payment capabilities within a few minutes. In this post, we will show you just how easy it is to connect Worldpay using the Chargent for Salesforce solution.
Setting Up Chargent with Vantiv
Even a novice Salesforce admin can connect Worldpay with Chargent – we've made it that easy. Follow the steps below to take advantage of Chargent's useful features while processing your payments through Worldpay. Before getting started, you'll need to install and configure Chargent.
1) Prepare Your Salesforce Account
First, install both the Chargent Base and Chargent Orders package into your Salesforce Sandbox organization. Later, you can set this up in Production, but it is always best practice to test in your Sandbox and ensure that everything is working correctly before deploying any changes live.
Next, make sure Chargent is configured. Find a quick and easy tutorial for configuring Chargent here: How to Trial Chargent 
Now, you're ready to set up your Worldpay/Vantiv gateway.
It is important to note that Worldpay, as one of the world's largest payment processing companies, has a variety of payment service offerings. Chargent connects to the Worldpay ecommerce gateway, formerly known as Vantiv eCommerce (and before that, Litle Transact). This is Worldpay's primary payment gateway for the United States.
2) Choose Vantiv in Salesforce
With Chargent installed and configured, you only have a few steps left to get Vantiv connected and active.
Click the App Launcher (Waffle) in the corner and choose the Chargent App.
Once on Chargent, click the Chargent Settings tab and Chargent Setup Wizard.
Click "Yes" on the next page, select Vantiv as the gateway, and click Continue.
3) Enter and Verify Your Vantiv Credentials
Sign into Vantiv using your Merchant ID and the username/password combination you set up when you first set up your account.
Copy and paste both the password and Merchant ID, then click Next.
At this point, Chargent will test the credentials you submitted. A green banner at the top of the page will notify you when your credentials are verified successfully. Once they are confirmed, you can click Continue.
4) Select Tokenization
Next, the Chargent Setup Wizard will ask if you want to use tokenization. Chargent strongly recommends that all our customers use tokenization to make payments safer, more secure, and help your business get closer to achieving PCI compliance.
After selecting to use tokenization, the wizard will ask you to determine which currency you want to use. The solution will suggest the most popular currencies used among Chargent's customers. Chargent supports all government currencies supported by your gateway.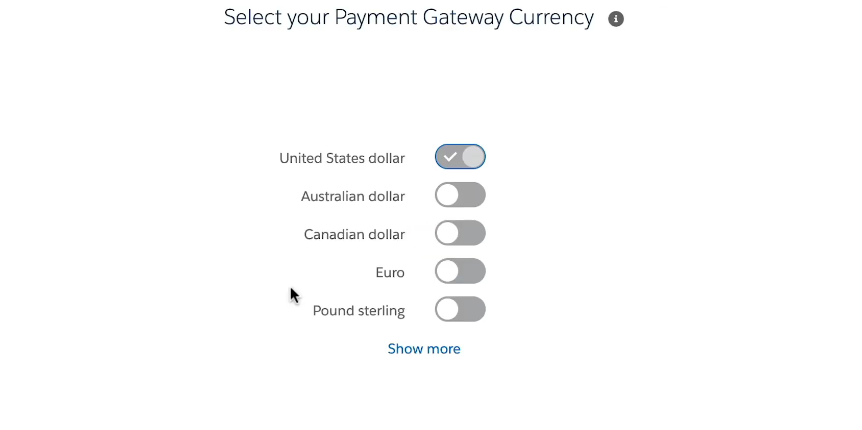 5) Activate Payment Console
Do you plan on using the Payment Console? We recommend that you do, as it makes taking payments manageable and efficient.
During setup, Chargent will give you a choice of using the Payment Console. After clicking Yes, you will receive an email with an Activation Key. Enter this key into Chargent, and once you've ensured that everything works, proceed on to the next step.
6) Add Payment Methods
Now, you'll choose which payment methods you want to accept. Chargent allows you to select both credit cards and bank accounts (ACH payments). If you choose Credit Cards, Chargent will ask you to choose which cards you want to accept. For example, some businesses may wish to exclude American Express – and here, you can easily toggle off that selection.
Once you have selected all of your preferred payment methods, click Continue to proceed.
7) Set Up Your Buttons
Payment Console allows you to set up buttons on your page in numerous ways. You may want to use a charge button, or you may not need to do charges at all. You may want to just update a token, or possibly do an Authorization only. Simply toggle on the features that suit your business and process.
8) Schedule Recurring Payments
If your business collects subscriptions, you'll now have the opportunity to set up Recurring Billing. Clicking Yes will walk you through setting up the Recurring Batch that will allow you to schedule future payments for processing.
We recommend scheduling the batch at 3am, but you should schedule it for the time that works best for your organization.
If you've followed these steps, your Vantiv gateway should now be connected to Chargent and ready to collect payments with your preferred settings.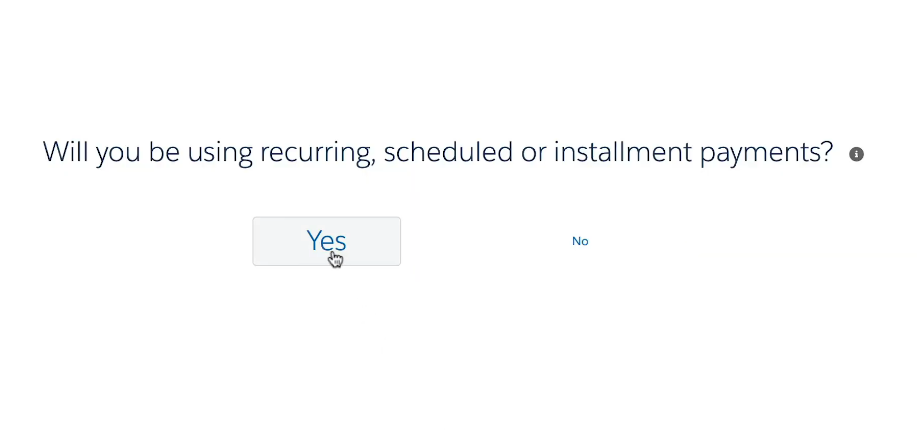 9) Test Your Gateway
Before deploying your gateway in production and collecting actual payments, you will want to run a few test transactions. These test transactions will help you ensure that Chargent was set up correctly and understand how Chargent allows you to take payments inside of Salesforce.
We know you're excited to start collecting payments, but don't skip this step! If something isn't working, you won't get paid!
Start by creating a few test charges and then thoroughly test any real-life scenarios. For more information on testing Chargent, check out our article: How to Test in a Salesforce Sandbox.
For more detailed documentation on Chargent's Worldpay / Vantiv connection to Salesforce, including test credit card numbers and more, see our complete Salesforce Vantiv gateway guide.
Create a Flexible Payment System with Chargent
With streamlined features like Recurring Billing and Payment Console, Chargent provides exactly what you need to streamline your payment system. If you're using another gateway besides (or in addition to) Vantiv, don't worry, Chargent integrates with more than 30 other gateways! Take a look at our long list of integrations to see which gateways we support.