When you use Salesforce Billing, one of the primary things to decide is how you will accept payment. As the digital world has become integrated into almost every part of our lives, the variety of payment options have expanded. Salesforce has expanded along with it.
The Chargent App for Salesforce provides multiple methods for accepting payments to make sure you can accept the payment variants your customers want to use. Here are 6 different options for getting paid with the Salesforce Billing product.
Analog Payments
Are you going to take analog payments? Taking cash, money orders, cashier's checks, and paper checks used to be a default method of payment. And while many people pay for products or services with their debit card more than a checkbook, you still want to have a system in place for accepting these forms of payment.
The Chargent Terminal for Salesforce POS allows you to take traditional forms of payment like cash. However, we don't recommend accepting paper checks if you can help it.
Better yet, you can use the customer's paper check to initiate an ACH bank draft using Chargent for Salesforce. This quick and easy process can be done with the customer present or after receiving the check in the mail.
Digital Payments
Will you be taking digital payments? These are credit cards, debit cards, prepaid cards, gift cards, and electronic bank debits. These payment methods are the most convenient to your company and the customer. Using Chargent for Salesforce also means these payments are the most secure because of our high PCI compliance and tokenization of all credit card data.
There are also Alternative Payment Methods (APM) like Zelle, Venmo, Skrill, and Paypal Express. These methods are being used more often. It's a good idea for any company to accept the forms of payment their customers are interested in using. With Chargent for Salesforce, you accept these payment forms using the same process as when accepting an analog payment.
Bank Payments
Do you plan to take bank payments? These include ACH here in the United States, EFT in Canada, SEPA in Europe, and Direct Debit in the UK and Australia. Every year customer use of bank deposits is increasing. And that is great news for businesses! Bank transfers are usually same-day deposits with a much lower cost per transaction when compared to credit card fees.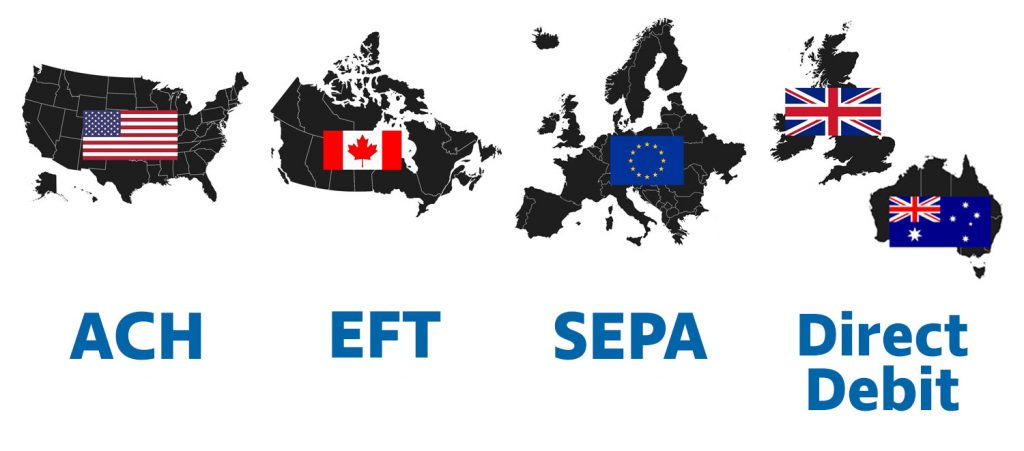 With that in mind, you might want to start working on a strategy to increase the usage of ACH payments in your business. It will do wonders for your cash flow.
In-person Payments
Does your business model depend on in-person payments? If you are handing customers transactions face-to-face, you need a system that can handle all methods for accepting payment. Using the Chargent Terminal is a standalone app for Salesforce POS. It enables you to accept payments,and the data will automatically upload into Salesforce as well.
You can use the Chargent Terminal as your mobile POS as well. At events, conferences, and pop-ups, handling payments on the go is easier when you have your POS integrated with Salesforce. You can collect analog and digital payments and keep track of your sales data with ease. Plus, your customers can trust that their payment information will be secure.
Online Payments
Is most of your business done online? You may want to have the option to send your customers digital invoices. Even better, use a system that will automate billing and remind customers when their invoice is past-due. Chargent for Salesforce has automation like this, making it easier to track your customers and their sales data.
With Salesforce Communities, you can turn your community into an eCommerce site from which your customers can make direct purchases. Even better, your customers can log on to make payments and update their payment information themselves. All of this gets logged into Salesforce, cutting down on the time you're spending contacting customers for payment information.
Phone Payments
If you are taking phone payments or have call center employees taking payments, you may find yourself awake at night wondering if there is a better way. Recording payment information over the phone is not a secure option, though it inevitably happens if you don't have a different system in place.
Payment Request is one of the Chargent Payment Processing tools available for Salesforce application. You can send a link to your customer by email or text to enter their payment details. This will help with maintaining PCI compliance and keep their information secure.
If you cannot make this system work, use the Payment Console feature in Salesforce to securely tokenize credit card information over the phone. Rest well knowing that you have ensured their safety and security.
Payments in Salesforce
Collecting payments in Salesforce provides you and your sales team a 360 view of your customers in one place. You can streamline your sales process and your data, which means that you can access all important information in one place. Plus, handling customers' financial data means your company needs to be in PCI compliance. Payment information is secure with Chargent for Salesforce.
Keeping the payment process in the hands of the people working directly with the customers simplifies your billing processes. With Salesforce CPQ, your team can configure price quotes and invoices that are intuitive and customized to your customers needs. That will also save you and your team time, allowing your energy to be directed towards customer retention and loyalty.
Make Online Billing Work Your Way
Using the payment tools Chargent offers for Salesforce will help you get paid faster and more securely. Install Chargent directly into your Salesforce workflow to easily set up recurring billing and automated collections. Track and manage your customer payments accurately and quickly, and best of all, keep all of your customer data in one place. Talk with us to discover what Chargent can do for your business and your financial future.