Email receipts are pretty boring.
Whether from online payments by your customers or made by an internal order process, many of us send plain receipts like this: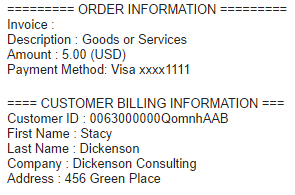 Authorize.net Standard Email Receipt
I guess that works, but it doesn't do any more than the minimum — provide a receipt.
With Chargent, you have the flexibility of using your Payment Gateway's receipts, or customizing your own email receipts from Salesforce.
So you now have an (easy) choice:
You can send the default email receipts from your payment gateway, by sending them the Billing Email from Salesforce.
Or you can send customized email receipts from Salesforce, by enabling Chargent's workflow to send a Salesforce Email Template.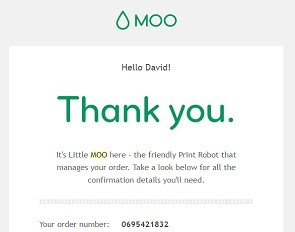 Email receipt from Moo.com
Why Customize Receipts?
strengthen your brand
offer discounts or loyalty rewards
upsell to new products or subscriptions
provide resources or customer service information
For some businesses, the plain information may be sufficient (some customers just want the data).
But for many organizations, the ability to customize your receipts within Salesforce, just as easily as any other Email Template, opens up some pretty significant capabilities.