Want to Send Payment Links from Salesforce? In this quick How To video we cover sending Payment Request emails from the Chargent Anywhere tool to take payments in Salesforce.
View the 2 minute video:
Or Read the Transcript:
Presenter:
Micaiah Filkins, Co-Founder President, AppFrontier LLC
Hey, Chargent users. Today, we're going to take a quick look at how to send a payment request to one of your customers using Chargent Anywhere.
Okay. In order to send a payment request from Chargent Order using Chargent Anywhere, all I need to do is to be on the Chargent Orders tab, which you can see I've done here. And then I need to create a new Chargent Order, so I'm going to simply create "New."
In this case, I'm going to put in a subtotal. It'll auto calculate my charge amount. In this case, I'm going to say that it's $100, something they're purchasing with a 9% sales tax. And this should be all I need to do.
I'm going to go ahead and click "Save." And now, I see my Send Payment Request button right here, so I'm going to click "Send Payment Request." And I see the charge amount has been populated for me there.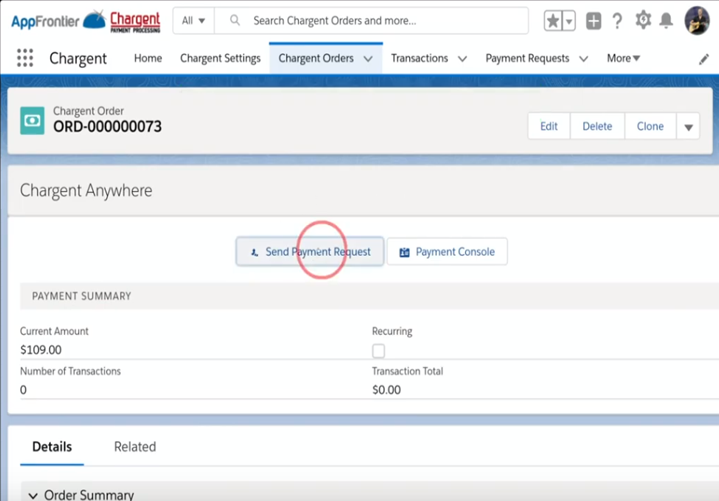 And in this case, I don't want to have to prepopulate all those billing contact details, so I'm just going to pick Chris Stapleton off my contact list. And whatever data he's got on his contact is going to be auto populated here.
You can see that "Charge Full Amount" is what I've selected. And I can say, "Thank you for your business," and I can send the request. And that's it. I have now sent Chris Stapleton a request asking for the $109, and he'll get an email into his inbox.
All right, there we have it. The request has been sent. Chris Stapleton is getting an email, which is fully customizable by your admin. He's going to click through the email, get on a landing page—which, again, you guys have full control over—and makes the payment. Everything's going to sync back into Salesforce. And so, that's it. You've done your part. Now, you're just waiting to get paid.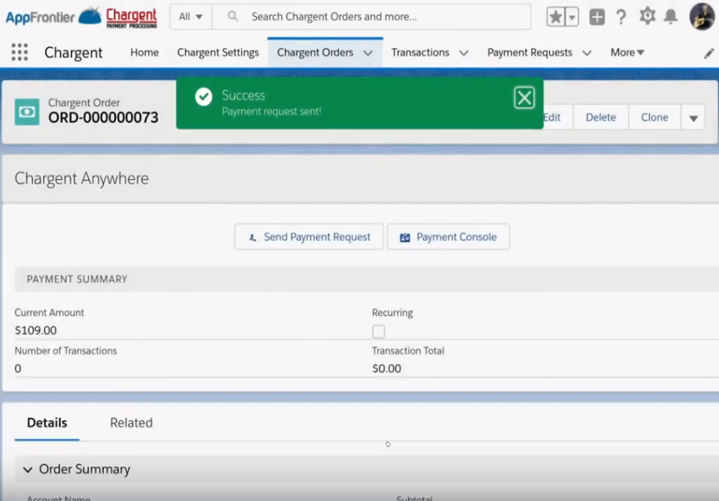 All right. If you've got questions, please drop them in the comments below, or shoot us an email at [email protected]. We appreciate you watching the video. And remember, we're always here to help.
Hey! Thank you for watching our video. And while you're here, please subscribe to our channel. Click that notification bell for immediate updates. And if you'd like to talk payments, please get in touch. We're always here to help.