Remembering to pay their bill every month is not only difficult for your customers, manually processing these payments is difficult for your team as well. Add in dealing with failed payments, involuntary churn, and updating credit card info, and your business has a "compounding" problem.
Nonprofits can also suffer from these struggles. Signing donors up for monthly donations is important to many organizations and a growing trend, but a poor donation payments process can lead to reduced donations. Network for Good found that 29% of donors would be more likely to make repeat donations if the organization made it easy to donate.
Bring Payments into Salesforce
The key to streamlining your payments process is simple: manage payments in Salesforce. Chargent provides you the ability to manage and automate your subscription billing in Salesforce, right next to your customer data. Our Payment Request and automated Recurring Billing software makes one-time and subscription payments easier for everyone, from your billing team to your customer.
Chargent Payments Demo
What would this process look like? Let's preview a quick demo on taking payments in Salesforce using Chargent. All great Salesforce experiences begin with the customer, so we'll start there first.
The Customer's View
The customer is Stevie Nicks, the parent of a cute fur ball named Zappa. He is an 8-month-old Australian cattle dog. Stevie is a customer at Doggo Daycare and needs a happy and safe place for Zappa while she is away from home.
The Doggo Daycare representative has sent Stevie the email below, where she can see the details of Zappa's reservation. The email includes a payment link where she can securely enter payment info.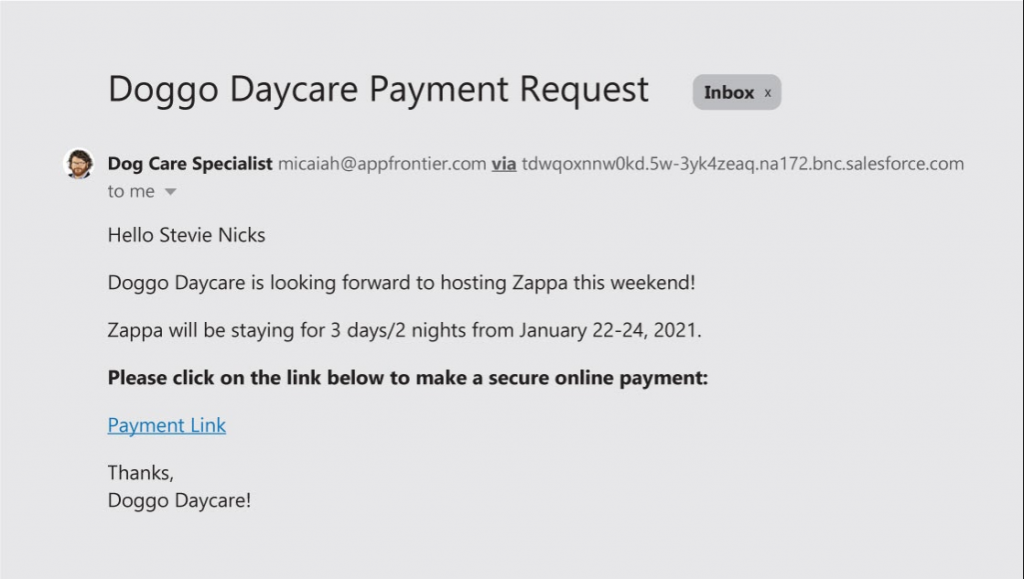 The link leads her to the fully customized payment page, where she can easily make her payment for the Doggo Daycare reservation. After entering her payment information, the page shows the payment was successful.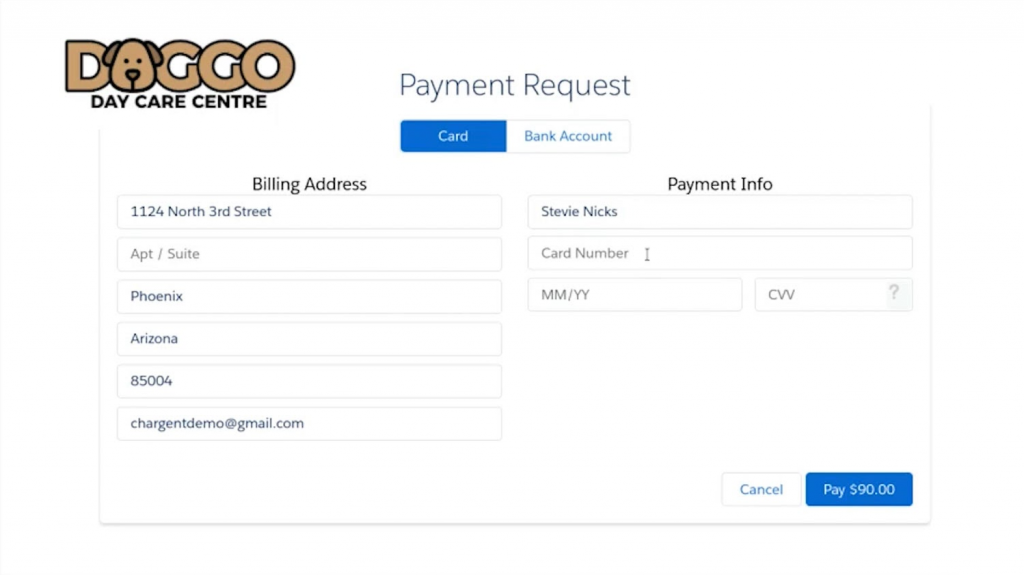 In her inbox, Stevie can see an emailed receipt showing her payment was successful. Zappa's stay at the pet resort is bought and paid for. As a customer of Doggo Daycare, Stevie Nicks is a happy puppy owner. That payment process was simple, and the reservation is confirmed.
The Business Side of Things
Now we change perspectives to the customer service end. The Dog Care Specialist at Doggo Daycare needs to see payments that are made for the upcoming stays. If she searches for Zappa inside Salesforce, she can easily find the related reservation and the associated payment.
Right in Chargent, she can see that they are ready to host Zappa, the puppy.
Visibility into the status of customer recurring payments is a critical part of managing subscriptions in Salesforce. Any Salesforce user with access, from Sales to Customer Service to Operations, can see the status of payments. That information is no longer isolated in a separate billing system.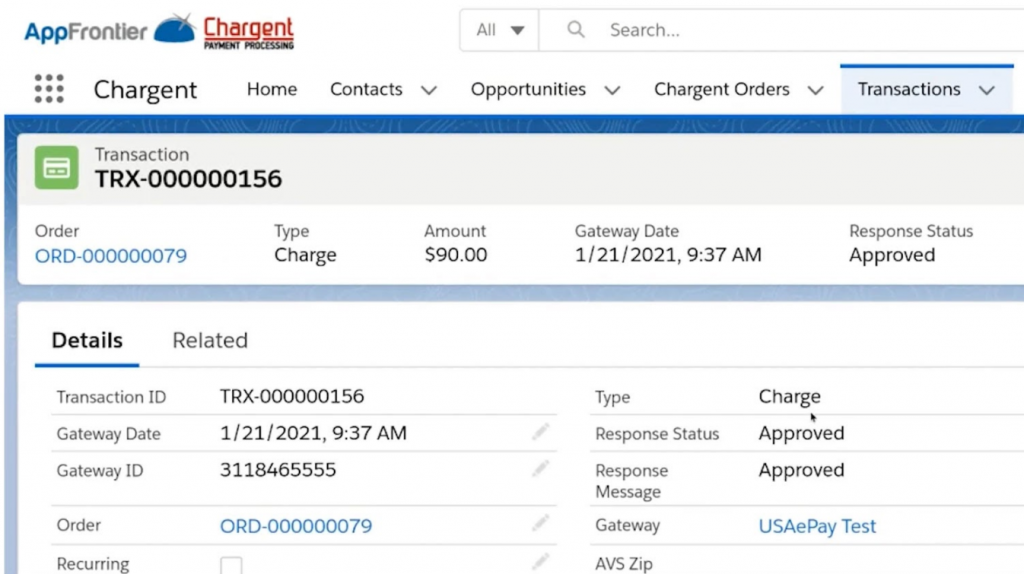 Enter the Subscription
Now let's jump forward in time, to about a week after the customer made this payment and reservation. Stevie, the dog owner, called to say that her work schedule is changing and she will need daycare for two days each week.
As a subscription business, Doggo Daycare's pricing model offers 2-day a week packages at a $60/week rate or at $110 prepaid for the month, provided the customer agrees to at least a 3-month commitment.
Stevie lets Doggo Daycare know she would like the monthly package. Using Chargent, the sales team can enter a recurring subscription payment. The Chargent payment console pre-populates data from the account, including the contact and opportunity records. This makes the subscription setup a breeze.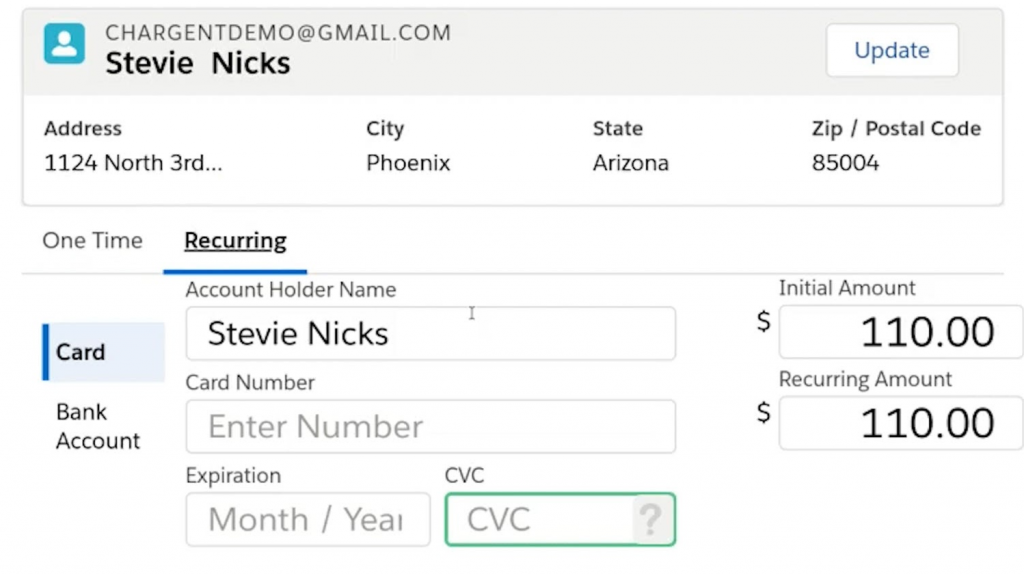 Validating that the recurring payments are set properly is simple. With a click of a button, the sales team can see that the customer will be charged $110 today, and Chargent is set to charge that same payment and send invoices automatically each month.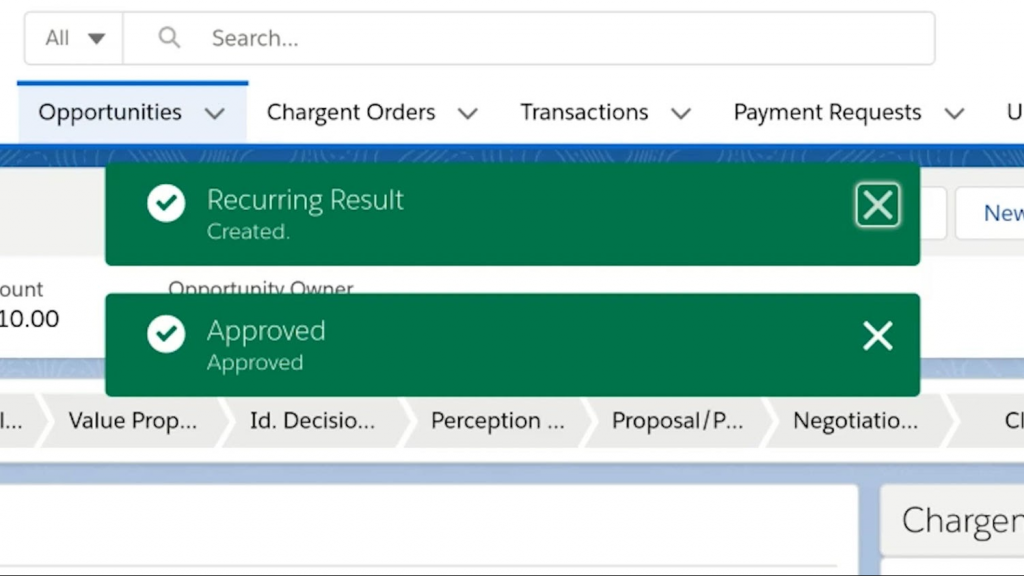 Salesforce Subscription Billing With Chargent
With Chargent, the one-time payments and subscription billing process is easy for both the merchant and the customers. Chargent can send invoices on many different billing cycles, including weekly, biweekly, monthly, or quarterly. Our customizable email templates allow your customers to easily and securely enter their preferred payment method.
Subscription management in Salesforce with Chargent takes the burden of processing payments off your shoulders, reducing billing errors and freeing up more of your time. It also makes it easier for your team to process payments and improves your customer's experience as well. Our free trial lets you see the benefits first hand with your own process. Contact us to learn more about how our Salesforce billing system will improve your business processes and help your team meet (and exceed) their goals.