Chargent Anywhere enables you to take payments from any Salesforce application and any object! Now you can payment enable the entire Salesforce platform. Close more business and get paid faster with payments on any page in Salesforce.
View the 5 minute video:
Or Read the Transcript:
Presenter:
Micaiah Filkins, Co-Founder President, AppFrontier LLC
Okay, let's take a quick look at how Chargent Anywhere works.
We're looking to make this just a really fast demo, and so if you'd like to see a full demo, don't worry, we got you covered. There's a lengthy one that goes through every single feature, which you can find on our YouTube channel. So, for now, we're just going to show you the most popular stuff. Let's dive in.
First thing's first. In this demo, we're selling to Mary's cookie shop, and she is buying sugar from our organization. She called in her order. However, due to our PCI compliance strategy, we didn't want to take that card over the phone, so we're going to send her a payment request email.
When one clicks here on the contact field, it of course already knows which account that I'm trying to get a contact from, so we can easily pull her contact record from that account. This payment request is for $100. I'm just going to write a quick, "Thank you for your order!" And we're going to send off the payment request. Just click the "Send Request" button. Success!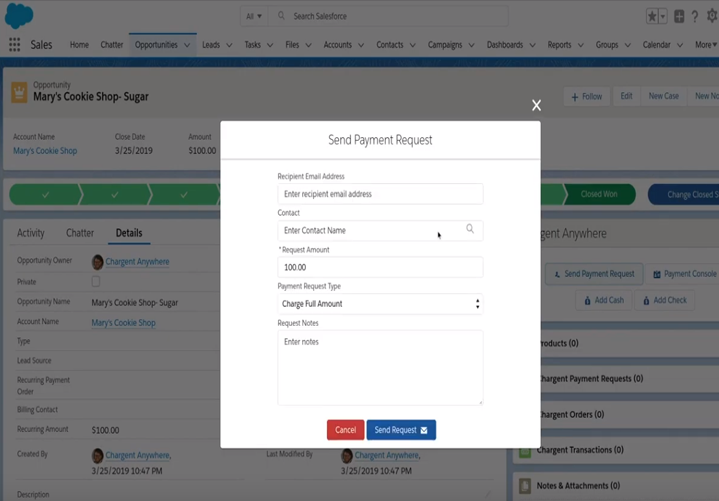 When that record gets generated, an email is sent. And here's the popup alert letting me know what took place.
Our customers have full control over this email's copy, as well as its look and feel. At Chargent, we leverage the Salesforce email templates so that Salesforce admins and business users can easily change the information that's in the email. You can add your own branding, make it look just how you like. Your customers will just click through this payment link.
Next, they land here on this payment request landing page, which again, you have full control over. The only thing that we're really controlling here, which is inside of our managed package, is this centerpiece here, between the rounded corners. Everything else is fully customizable to meet your look and feel needs.
Great! Our payment was successful.
Hey, developers! You can also customize the success page that we're looking at, as well as a cancel and a fail page.
All right, here we go. The receipt alert just came in. And just like everything else, our receipting, it's fully customizable. Administrators can have this email have the look and feel from your company, it could have any copy you like, pull any fields you like.
And now, we are good to go. Here, we can see that the payment request, it's been paid. Also, there is a $100 Chargent transaction. So, we took the payment from Mary via the Chargent payment request, and now the data is here, ready for any reports you want to run.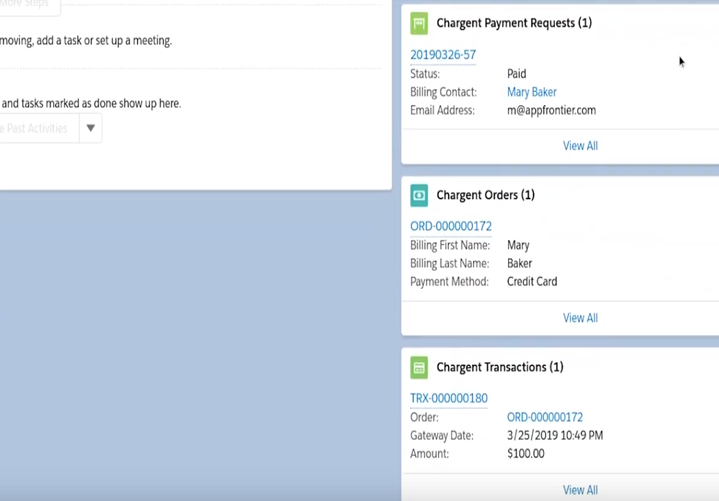 All right, moving on. Since Mary was so impressed with her first shipment of sugar, she has decided that she wants to move to a monthly subscription. On "My Opportunity," you can see that I put in a $1,000 amount for her immediate shipment, and then another $1,000 as her recurring amount. To get her subscription started, I will just click into the "Payment Console."
This is going to be a recurring payment, so I'm going to click on the "Recurring" tab. We could see $1,000 for the initial amount, and for the recurring amount. Everything looks right here. Just click "Next."
For this one, I'm going to set the payment frequency to "Monthly." As this is a typical subscription, the stop rule is set to "Unending." As we are taking the first payment today, we're going to set the payment start date for the automated payments to start on April 25th. And here, users can see that we've got that fixed day of the month all set for the 25th.
When we click "Next," we are taken to the confirmation page. And here, we can see that all the details are ready to go. Up top, we could see that the subscription is for Mary, and her address is 1 Chocolate Way, in Hershey, Pennsylvania.
The amount has been set to $1,000 with a frequency of monthly, and a payment start date on April 25th, which is one month from today. And Chargent will keep collecting until it's told to stop, like a typical subscription. One can also see a list of the future payments that Chargent is going to be collecting.
All right, everything looks good to me. I'm going to click the button. And as the button states, I will charge her for $1,000 now, and I'll start her recurring for later.
Let's go and check out our newly created records.
If one wants to drill into the underlying Chargent order, they can double-check their work just by reviewing the recurring billing section here and seeing that everything looks to be in order.
Mary's now all set with her sugar subscription.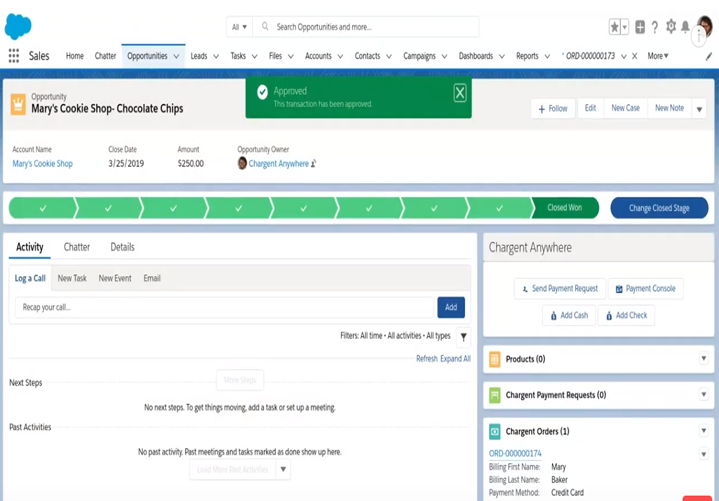 Wasn't that simple? The Chargent team thinks that our new Lightning optimized recurring billing interface is light years ahead of the competition. What do you think? Tell us in the comments below.
In closing, we're going to just take a look at the payment console, taking an instant payment from a customer over the phone. One can do this with a bank account or with a credit card. We use them pretty much the same at Chargent. All we're going to need is just a credit card number, expiration date, card security code, and we could see that the amount was already populated from the opportunity record.
As you can see on the buttons below, you, the admin, can allow your users to register a token, simply do an authorize only, or take a charge, which is what we're going to do today. Boom! It's approved. Easy as pie.
That's it! Chargent Anywhere in a nutshell. If you'd like to see more, check out our extended demo here, where we walk through all of the features and configurations in this latest version of Chargent. The Chargent team is absolutely thrilled to get these latest upgrades in the hands of our customers.
If you're not a customer yet, what are you waiting for? In the description below is our contact information. We want to hear from you! And also, you can click this link on the screen here.
Remember, we're always here to help.
Hey! Thank you for watching our video! And while you're here, please subscribe to our channel. Click that notification bell for immediate updates. And if you'd like to talk payments, please get in touch. We're always here to help.